Procter & Gamble Company (P&G) is a globally recognized provider of consumer packaged goods. It operates in over 180 countries and sells products through a variety of outlets, including mass merchandisers, grocery stores, membership club stores, drug stores, department stores, salons, e-commerce platforms, and neighborhood stores.
As of June 30, 2013, P&G operates through five key segments: Beauty; Grooming; Health Care; Fabric Care and Home Care; and Baby Care and Family Care. Its product range is extensive, from deodorants to cosmetics, skincare, shave care, baby wipes, diapers, and household products. Notably, its Olay brand is the top facial skin care brand worldwide. P&G is listed on the NYSE and employs around 95,000 people.
The forthcoming report utilizes data sourced from Radient Analytics. Let's delve into key changes that happened for Procter & Gamble Company (P&G), breaking down the 13F filings of its top buyers and sellers.
In the latest round of financial updates, the major purchasers of Procter & Gamble stock are exhibiting significant activity.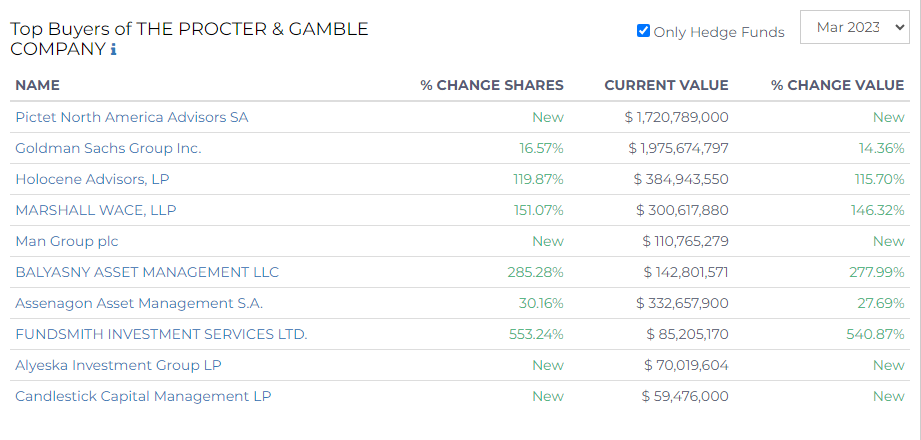 Topping the list of buyers for March 2023 is Pictet North America Advisors SA. This firm emerged as a new player with a substantial initial investment of $1.72 billion. Goldman Sachs Group Inc., an existing investor, increased its shares by 16.57%, bringing the current value of its holdings to $1.97 billion, a 14.36% increase in value.

Other noteworthy increases were made by Holocene Advisors, LP, which raised its shares by a staggering 119.87%, elevating its holdings to around $384.94 million. Marshall Wace, LLP wasn't far behind with a 151.07% increase in shares, bringing its total investment value to about $300.62 million.

Alyeska Investment Group LP also entered the Procter & Gamble shareholder group with investments valued at $70.02 million respectively. Another new investor, Candlestick Capital Management LP, made an investment of $59.48 million.

There were also noteworthy movements from Balyasny Asset Management LLC, which increased its shareholdings by a whopping 285.28%, raising its holdings to approximately $142.8 million.
Assenagon Asset Management S.A. grew its shareholdings by 30.16%, bringing the value of its investment to $332.66 million. Lastly, Fundsmith Investment Services Ltd. significantly boosted its shares by 553.24%, pushing its holdings up to around $85.2 million.

These investments reflect confidence in Procter & Gamble's growth prospects and reinforce its reputation as a reliable choice for investors seeking long-term value.
A number of major hedge funds have reduced their holdings in Procter & Gamble during March 2023, signifying a shift in investment strategies.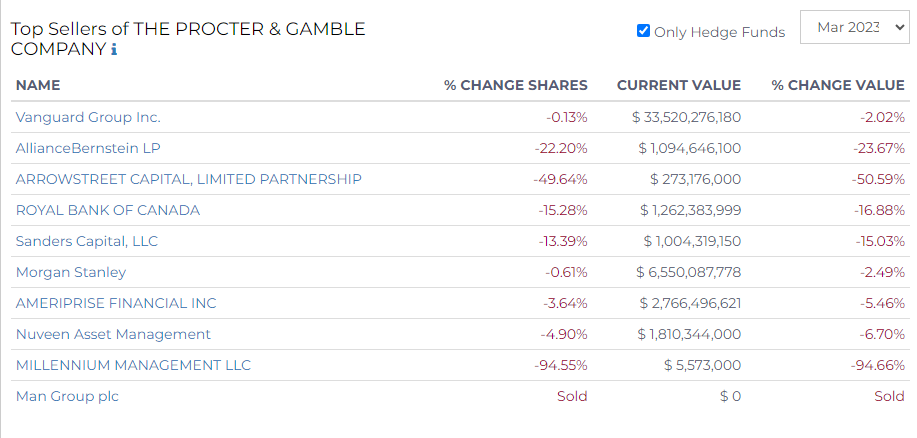 Vanguard Group Inc. slightly reduced its shares by 0.13%, which led to a 2.02% decrease in the current value of its holdings, now standing at $33.52 billion.
AllianceBernstein LP reduced its shares by 22.20%, which resulted in a 23.67% decrease in the value of its holdings, now at $1.09 billion.

Significant sell-offs were made by Arrowstreet Capital, Limited Partnership, and Millennium Management LLC.
Arrowstreet Capital lessened its shares by 49.64%, dropping the value of its holdings to $273.18 million. Millennium Management drastically cut down its holdings by 94.55%, leaving its total investment value at $5.57 million.

The Royal Bank of Canada and Sanders Capital, LLC also scaled back, with the former reducing its shares by 15.28%, making its current holdings worth $1.26 billion. The latter decreased its shareholdings by 13.39%, bringing down its total investment value to $1 billion.

Other firms including Morgan Stanley, Ameriprise Financial Inc, and Nuveen Asset Management also recorded reductions in their holdings.
Morgan Stanley's shares went down by 0.61%, Ameriprise Financial decreased its shares by 3.64%, and Nuveen Asset Management reduced its shares by 4.90%.