13F Filing Review: Pershing Square Q1 2023

Pershing Square Capital Management LP filed its most recent 13F on 15 May 2023, for the quarter ended 31 Mar 2023.
Pershing Square Capital Management, L.P., a New York-based investment management firm, was founded in 2004 with William A. Ackman as the principal owner and managing member. The firm manages several investment funds, including Pershing Square, L.P., Pershing Square International, Ltd., and Pershing Square Holdings, Ltd., among others.

The firm may also manage other funds or products investing alongside the Core Funds. Investment avenues include long and short positions in equity or debt securities, distressed securities, rights, options, warrants, bonds, notes, indices, swaps, futures contracts, foreign currency, ETFs, and other financial instruments, both in the U.S. and internationally.
Drawing on the data and insights gathered via Radient, the focus now turns to significant highlights, equity transactions, and sales at Pershing Square Capital Management LP for Q1 2023, as reported in their most recent 13F filing.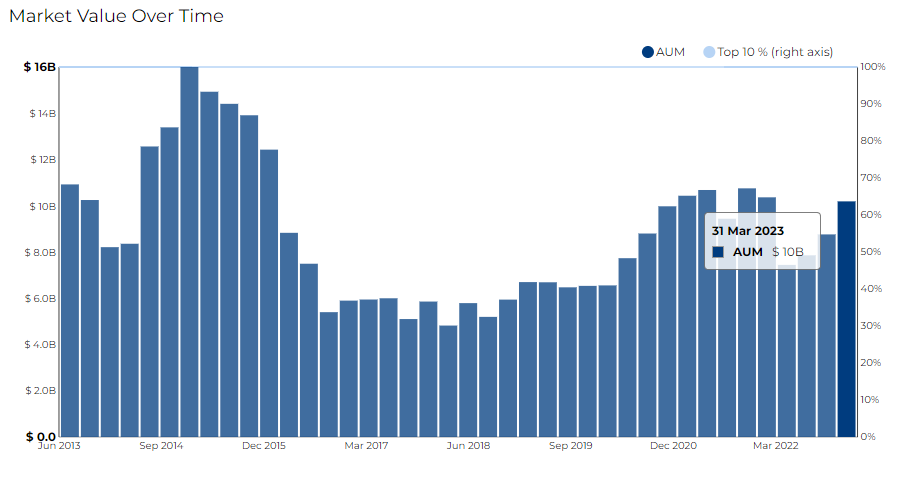 The firm disclosed 10.22 B in assets with a turnover rate of 25%. It holds 8 securities in its 13F portfolio, and the top 10 holdings account for 100.0% of the portfolio.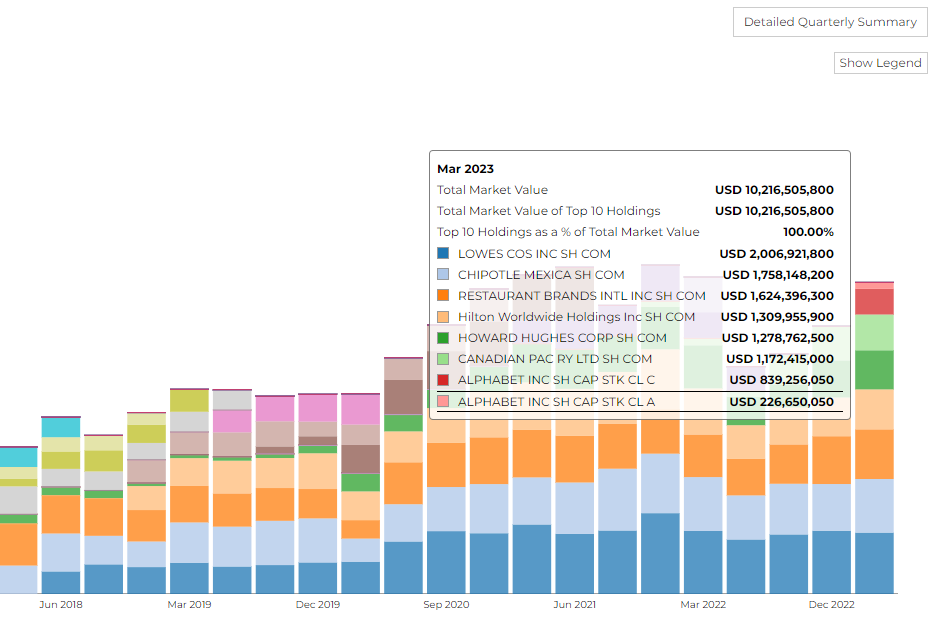 Pershing Square Capital Management LP's top 3 holdings include Lowes Cos Inc ($2B), Chipotle Mexican Grill Inc ($1.75B), and Restaurant Brands INTL INC ($1.62B).

Pershing Square's investment activities in March 2023 demonstrate a diversified approach across the technology, real estate, and transportation sectors.



Pershing Square Capital made its most substantial new acquisition in Alphabet Inc, the parent company of Google. This comprised an investment of over $1 billion across Class C and Class A shares. Specifically $839.25 million in Class C and $226.65 million in Class A.
Furthermore, the firm bolstered its real estate portfolio with a significant stake in Howard Hughes Corp, totaling $1.28 billion. This move represents an increase of 0.56%.
The firm also marginally increased its position in Canadian Pacific Railway Ltd by 0.01%, reaching an overall investment of $1.17 billion.
During the analysis period, Pershing Square made significant sales in companies across different sectors. These companies are grouped into relevant sectors:



Retail Sector:

Lowe's Companies, Inc.: Pershing Square sold a portion of its holdings, reducing it by 3.26%. The number of shares went down from 10.37 million to 10.04 million. The value of the investment decreased from $2.07 billion to nearly $2.01 billion.


Hospitality Sector:

Hilton Worldwide Holdings Inc.: Pershing Square reduced 7.3% in its shares. The shares went from 10.03 million to 9.30 million. However, there was an increase in value from $1.27 billion to $1.31 billion.

Food Service Sector:

Chipotle Mexican Grill, Inc.: The number of shares in Chipotle Mexican Grill held by Pershing Square decreased by 6.88%, going from 1.11 million to 1.03 million. Despite this reduction, the value of the investment appreciated from $1.53 billion to about $1.76 billion.
In summary, Pershing Square made notable sales in the Retail, Hospitality, and Food Service sectors. Despite decreases in the volume of shares held in these companies, there were notable increases in value in Hilton Worldwide Holdings and Chipotle Mexican Grill