Q3' 2021 Form 13F filings are out!
Previously, we looked at the Q2 disclosures of funds managed by Greenlight Capital, Baupost, Icahn Capital, Sachem Head and Third Point!
RADiENT has now summarized the Q3 13F filings of these funds to track their activities and performance.
Let's dive right in -
Green Light Capital Inc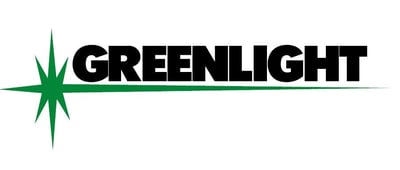 Greenlight's Q3 13F filing discloses a market value of $1.5B, and the fund witnessed a drop of ~$100M. The top 10 holdings of the fund contribute to nearly 74% to the total market value. The fund replaced Chemours Co with Change Healthcare Inc in its top 5 holdings and removed GoPro and Resideo Technologies from its top 10 holdings this quarter.
Greenlight entirely liquidated 26 positions in Q3, which included Reinvent Tech, SPDR SP 500 ETF, and Synnex Corp. The largest securities bought by the fund are Teck Resources ( $112M), Brighthouse Finl Inc ( $177M), and The ODP Corp ($46M). The new positions added to the portfolio include – Victorias Secret and Co, Freyr Battery, and iShares Silver TR.
Baupost Group LLC
The fund lost $1.5B in its market value this quarter due to trading activity, however, it saw an increase in its turnover at 28%. With a current market value of $11B, Baupost added 7 new positions over the last quarter, which include – Dropbox Inc, Joby Aviation Inc, and Archaea Energy Inc. The fund majorly invests in the communications and IT sectors. Baupost Group's largest holding is Liberty Global Class C shares. With a value of $1.5B, this holding has been the fund's largest position since December 2018. The Fund also holds shares of Viasat Inc in its top 10 holdings since June 2013.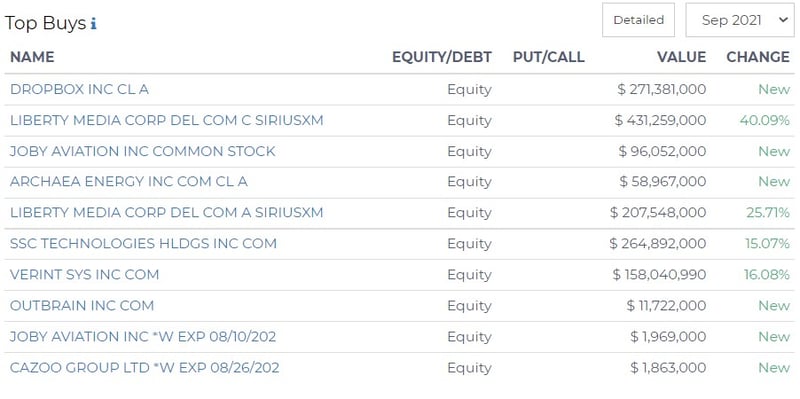 Icahn Carl Capital
Icahn's 13F filing discloses a market value of $22.5B for Q3 2021, against $24B in Q2 2021. The top 10 holdings contribute to 94% to the total market value of the fund. Icahn's portfolio allocates 56% to industrials and 19% to energy securities.
Icahn takes an activist approach while investing. An activist investor is a shareholder who uses an outsize equity stake in a company to influence management. While numerous funds and fund managers have tried their hand at activist investing in the past, Icahn is considered an undisputed king in this aggressive strategy.
Third Point LLC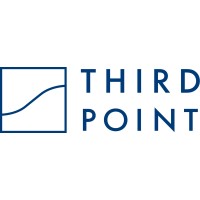 Third Point's fund witnessed an increase of $1.2B in its market value for Q3 2021. The fund reports a market value of $18B with a turnover of 44%. The fund completely liquidated 31 positions that include- SOFI Technologies, UBER, and Peloton Interactive Inc. Third Point increased its investment in Upstart Holdings Inc by $2.4B - the fund now holds $4B of this security, about 21.4% to its portfolio. Additionally, the fund purchased 18 new securities which include Alight Inc ( $195M), Archaea Energy Inc ( $80M), and Activision Blizzard Inc ($155M).
Sachem Head Capital Management
Sachem Head is a material and healthcare concentrated fund with a market value of $4B as of 30 September 2021. The fund's top 10 holdings contribute to 92% to its total market value. The largest three securities- Elanco Animal Health ($888M), International Flavors Fragrances ( $881M) and Olin Corp ( $692M) together amount to nearly 68% of its portfolio. In Q3 2021, Sachem Head held US Foods shares worth $236M. The fund said it plans to engage with US Foods' management and board of directors, as well as other stockholders, to discuss matters related to the business. Sachem Head is already in agreement with International Flavors Fragrances and Elanco Animal Health, to have their fund manager Scott Ferguson on their Board of Directors.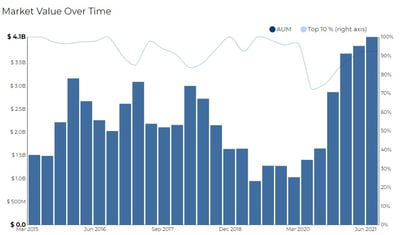 Baupost Group and Third Point, both purchased securities of Archaea Energy in Q3 2021. Rice Acquisition Corp, a SPAC, focused on the energy transition sector, will combine Aria Energy LLC and Archaea Energy LLC to create an industry-leading renewable natural gas platform. The combined company is called Archaea Energy and is expected to contract 60-70% of renewable natural gas volumes under 10-20 years.
Users can track 13F Filings of similar such funds via RADIENT!