We analyze how tumultuous Q3 and Q4 of 2022 were.
Highlights
Investors pulled $26B from hedge funds in Q3 2022

The HFRI fund-weighted composite index was down 6.66% through the year in September 2022

US equities made robust gains in Q4, with much of the progress made in November

Global hedge funds registered their worst-ever returns in 14 years in 2022
We covered the first two quarters of 2022 in our previous blog, read here.
We now look at the third and fourth quarters of 2022 to track the year that was 2022.
US in the third quarter of 2022
All four major stock indices posted negative returns for the third consecutive quarter, although, unlike the first two quarters of 2022, the tech-heavy Nasdaq did not badly lag other indices (RADiENT).

US equities fell in Q3. The communication services sector, including both telecoms and media stocks, was among the weakest sectors over the quarter, along with real estate. The consumer discretionary and energy sectors proved the most resilient.
Growth stocks (-3.6%) were also down in Q3 but managed to beat Value stocks (-5.6%) for the first time in nearly a year. RADiENT data shows that among all domestic equities in Q3, small-cap stocks turned in the best relative performance, even though it was down by (- 2.2%).
Commodities
Commodities dropped sharply in the third quarter. Precious metals were the best-performing sector of the asset class in Q3, posting a 0.70% loss. The largest commodity losers for Q3 2022 were Gasoline, Iron, Soybean, Aluminium, Copper, and Gold. The commodities that posted positive results for the quarter included -Natural Gas, palladium, Wheat, rice, and Lead.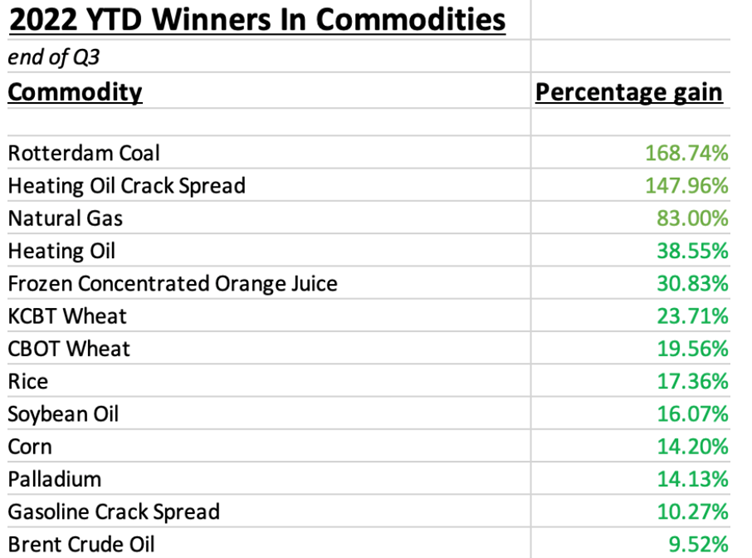 Fixed income
In Q3 fixed-income markets experienced continued negative performance as inflation and labor market data proved stubbornly robust. Total returns for diversified fixed income categories were negative for the third consecutive quarter, with most strategies down by double-digits year-to-date. The U.S. Intermediate Aggregate Index declined 3.8% and the Barclays Municipal Bond Index had similar returns of -3.5%.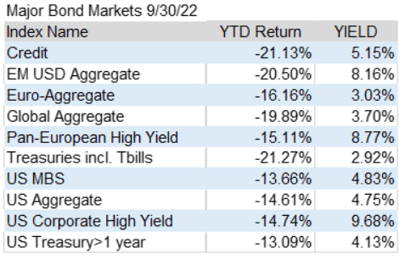 US in the fourth quarter of 2022
US equities made robust gains in Q4, with much of the progress made in November. Most sectors rose over the quarter, a number climbing significantly. Energy stocks posted especially strong gains, with sector heavyweights Exxon and Chevron posting record profits in the quarter.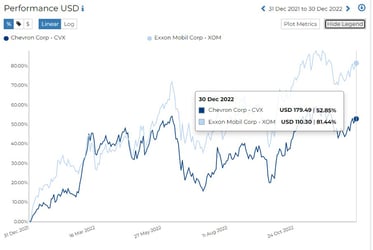 Commodities
The S&P GSCI Index recorded a positive performance in the fourth quarter, with higher prices in industrial and precious metals offsetting weaker prices in agriculture. RADiENT data shows that funds with industrial metals performed the best in Q4.
Hedge Funds in 2022
Global hedge funds registered their worst-ever returns in 14 years in 2022. Hedge funds that put money in commodities exploited price differences between related securities and outperformed in 2022, handing decent gains to investors. Some examples of commodity hedge funds are those managed by Elliot Management, Angelo Gordon & Co, Lighthouse Investment Partners, and Bracebridge Capital.
Bracebridge Capital
Bracebridge's Form ADV shows that the firm manages a total reg AUM of $48.7B. The filing also discloses 12 private funds with a total gross asset value of $64.87B. Bracebridge's 13F filing shows that the firm market value stood at $570M at the end of Q3 2022. The firm shows a turnover of ~13% with nearly 65% of its market value attributed to the top 10 holdings in its portfolio.
Users can track and compare the performances of hedge funds against other hedge funds and indices, using various metrics and tools on RADiENT.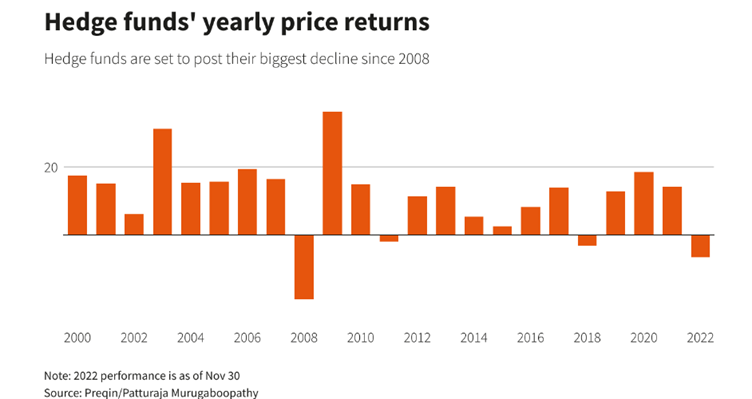 Goldman Sachs hedge fund report as of 15 November 2022, analyses the 13F holdings of 786 hedge funds with $2.3T of gross equity positions at the start of 4Q 2022. Users can analyze these filings on RADiENT.
The report shows that hedge fund equity market exposure is at the lowest levels since the start of their data set of nearly 20 years. Equity hedge fund returns also showed their smallest-ever beta to the broad equity market in years.
An example of an equity hedge fund- Bridgewater Associates reported a market value of $20B at the end Q3 2022, witnessing a fall of $5B from the Q1 2022 end 13F disclosure.
The report also discloses that an average hedge fund has returned -5% YTD, whereas macro and equity hedge funds returned +9%and -12% respectively.
RADiENT data shows that by the first half of 2022, global macro funds performed the best, followed by volatility arbitrage and multi-strategy funds. Equity hedge funds performed the worst even during Q1 and Q2 of 2022.
13F data on RADiENT shows that Daniel Loeb's Third Point saw a decline of nearly 45% in its market value at the end of Q1 2022 from that of the end of Q4 2021. Tiger Global lost nearly half of its value during the first six months of 2022.
Tiger Global Management LLC's Market Value: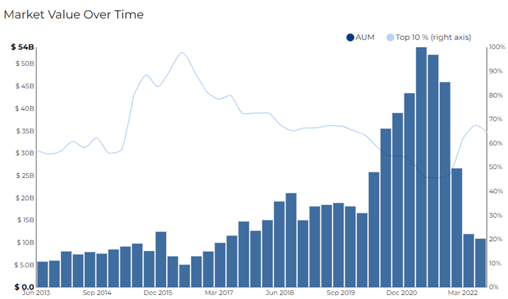 Hedge Funds that performed well in 2022
Citadel Advisors
Citadel Advisors flagship Wellington fund reported a gain of 38.1% in 2022, while the fixed-income fund went up 32.58%. According to Reuters, reports that Citadel Securities brought in $7.5B. The 13f filing of Citadel Advisors for end Q3 2022. The fund reported nearly $440B in its market value, the largest contribution to the market value was by SPDR SP 500 ETF, Invesco, and Tesla.
The DE Shaw Group and Millennium Management also reported positive double-digit returns for the year. The funds gained 23% and 10% respectively, at the end of November 2022.
Track private and public fund data for the year 2022 on RADiENT. Users can also analyze and compare securities using various RADiENT features.