RADiENT studies the recent 13F filings and focuses on the Q4 2022 disclosure by Berkshire Hathaway. Berkshire Hathaway, Inc. maintains a diverse investment portfolio that is valued at $299B and is comprised of 49 companies that remain unaltered from the previous quarter. The portfolio's top five holdings, which collectively represent over 75% of the portfolio, include Apple, Bank of America, Chevron, Coca-Cola, and American Express.

Although Berkshire Hathaway augmented its investment in Apple, it currently accounts for a smaller proportion of the portfolio than it did in the previous quarter. It is noteworthy that the portfolio displays a marked weighting towards technology, energy, consumer staples, and financials, attributed to the substantial investments in companies such as Occidental Petroleum and Kraft Heinz.

Berkshire Hathaway's ownership in Occidental Petroleum now exceeds 20% of the outstanding shares. RADiENT analyses some of Berkshire's top-held securities and looks at how these securities have been disclosed by firms in the latest 13f filings. We cover Apple from the tech sector, Occidental from the energy sector, Coca-Cola from the consumer staples sector, and BAC from the financial sector.
Apple
According to the recent 13F filings, the 13F value for this security at the end of 2022 stood at $7.1T with nearly 3% of its value held by hedge funds. 103 hedge funds held this security by the end of 2022.
The top buyers of this security include- Chevy chase Trust Holdings Ltd, D E Shaw &Co, Voloridge Investment Management, Wellington Management Group LLC, etc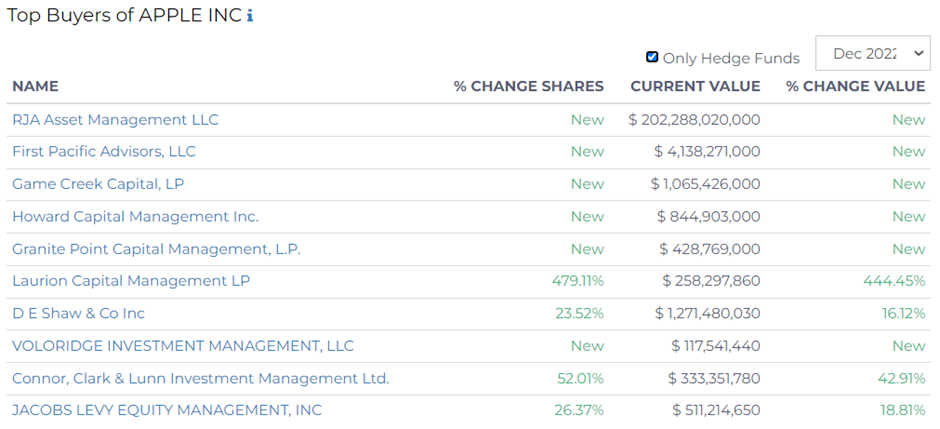 In the last quarter, Warren Buffett's Berkshire Hathaway boosted its holdings in Apple. Berkshire's stake in Apple is by far it's most valuable holding at $116.3 billion, dwarfing its second-largest holding of $33.4 billion in Bank of America. Apple makes up 39% of the total value of Berkshire's holdings, down from 42% in its prior 13F. The firm added some 333K shares of Apple totaling 895M.
The fund manager sees apple as the best in the tech sector. As of 31 Dec 2022, these were the top three public funds that held Apple in their portfolio according to the 13F data on RADiENT- Fisher Asset Management LLC, Sumitomo Mitsui Trust Holdings Inc, and New York State Common Retirement Fund.
Occidental Petroleum Corp
RADiENT data shows that OXY was held in the portfolios of 32 hedge funds by the end of Q4 2022. The filings data also shows that 379 filers increased their holdings in the security in the last quarter whereas 160 holders reduced their holdings in the security.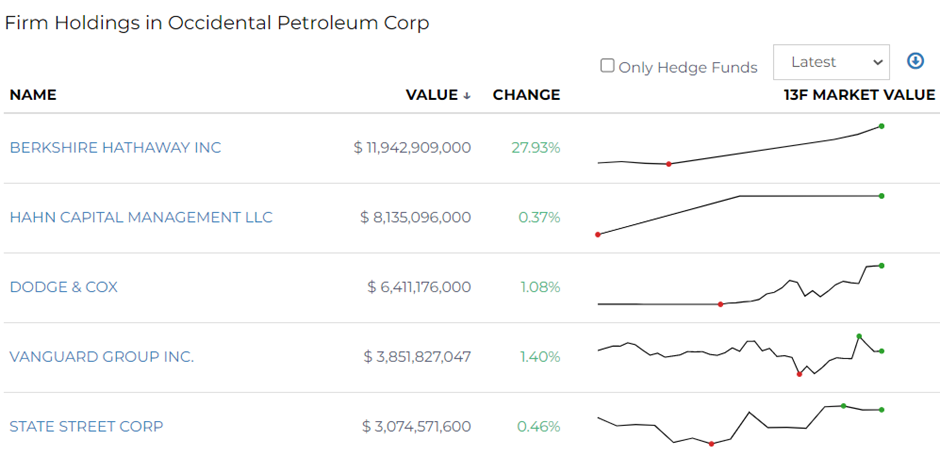 Berkshire Hathaway is one of the largest holders of OXY with stocks worth nearly $25B. Buffet's position in OXY remains unchanged at 278M shares representing a 28% stake in the company.
13F Security data on RADiENT shows that this security is most held by the following hedge funds- Smead Capital Management, DE Shaw & Co Inc, and MFN Partners Management LP.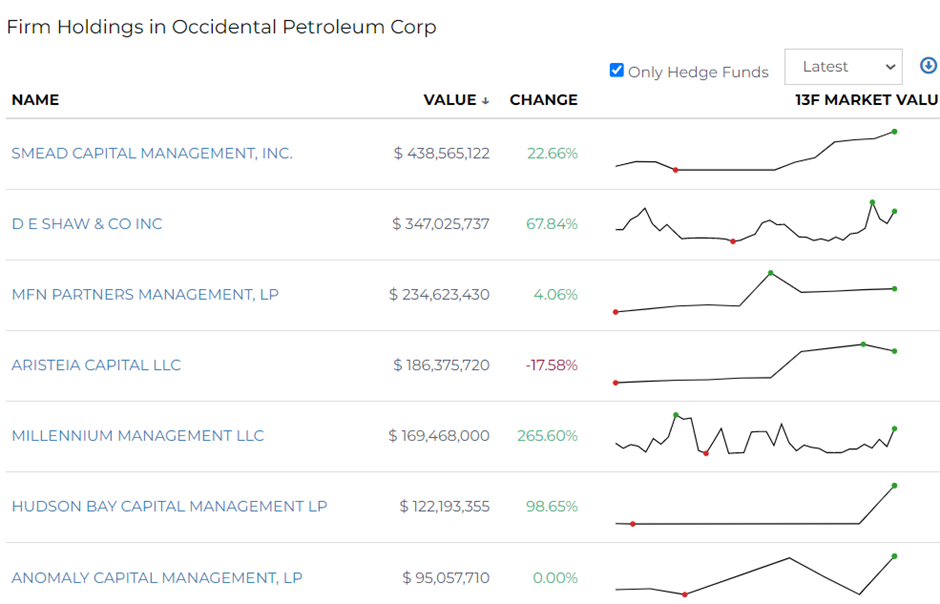 The Coca-Cola Company
The 13F value for the last quarter of 2022 stands at $867B with 62 hedge funds holding this security in their portfolios. The data also shows that 1,459 filers increased their holdings in KO.
The largest firms holding KO in their portfolios include- Vanguard Group, Berkshire Hathaway, Blackrock Inc, and State Street Corp.
The largest hedge funds filers are: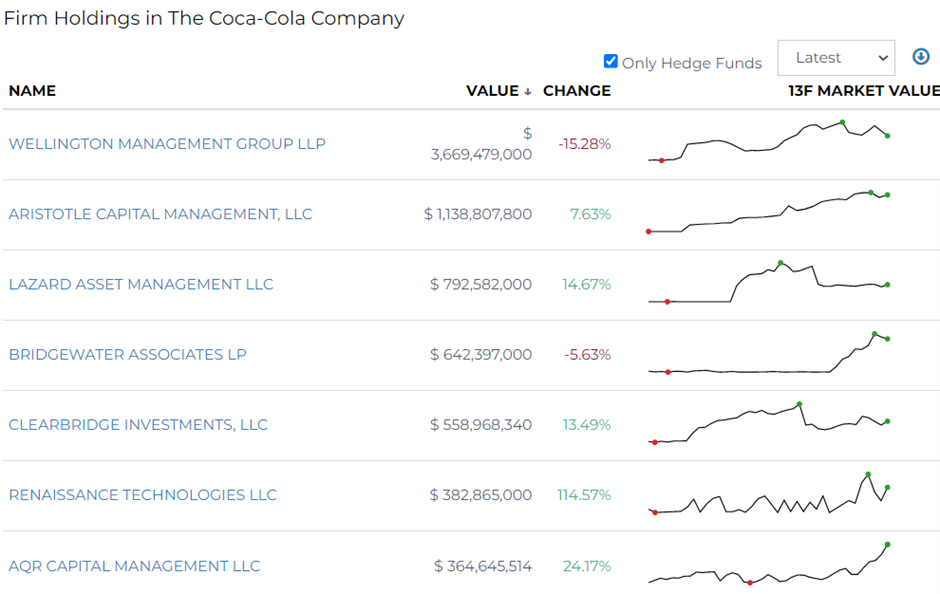 Bank of America
This financial security's 13F value as of 31 Dec 2022 was $786B with only 0.86% of the market value attributed to 65 hedge funds. The hedge funds that were recorded as the top hedge fund buyers of BAC include Lazard Asset Management, Balyasny Asset Management, and Sanders Capital LLC. The top firm holders of BAC are Harris Associates LP, Lazard Asset Management LLC, and Clearbridge Investments LLC.
Berkshire Hathaway's largest financial services holding is Bank of America (NYSE: BAC), which represents 10.8% of its equity portfolio. The company currently owns 1.03B shares of BAC, which equates to a 12.9% stake in the bank.
In April 2020, Berkshire Hathaway received approval from the Federal Reserve Bank of Richmond to acquire up to a 24.9% stake in Bank of America. Berkshire Hathaway first invested in BAC in 2011, with the purchase of $5B in preferred stock, which included warrants to buy 700M common shares.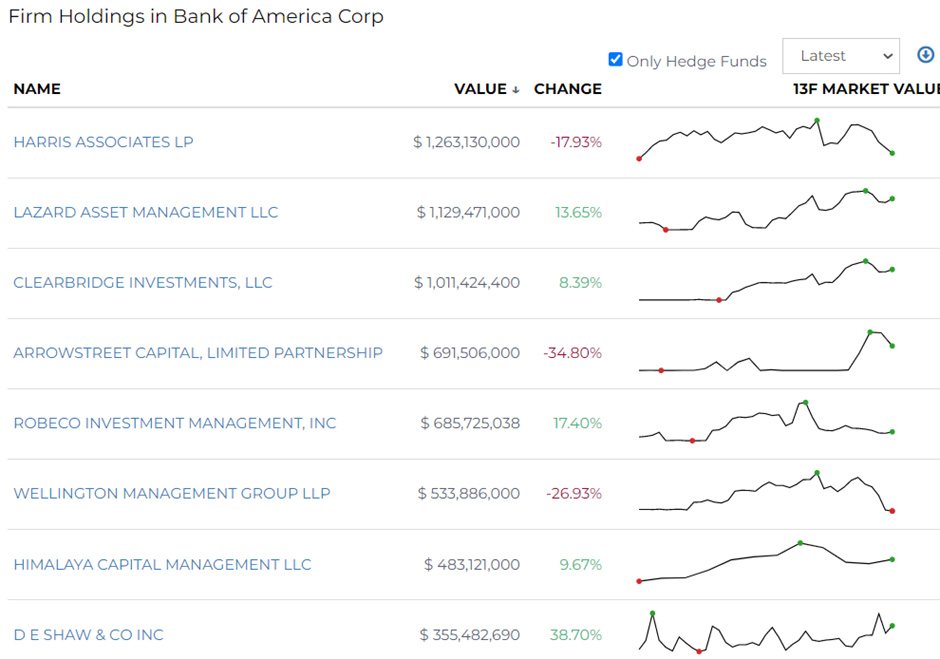 A little more about Berkshire Hathaway
Berkshire Hathaway's market value as of the end of Q4 2022 stood at $300B with the top 10% holdings contributing nearly 88.98% to the firm's market value. The firm reduced its holdings in 8 securities in the last quarter and added no new securities to its portfolio. The fund is majorly focused on the IT sector. Users can track the top holdings and other 13F performance metrics of Berkshire Hathaway via RADiENT!