2022 saw several lows for the crypto sector. Crypto stocks have rebounded strongly as Bitcoin has jumped about 40% this year. Crypto-related ETFs are the best-performing products among equity ETFs year-to-date. The revival of crypto exchange-traded funds has been driven by positive developments in the cryptocurrency market, breaking free from a long period of limited movement following its drop from a record high of nearly $70,000 in November 2021. Additionally, Solana, a lesser-known digital currency, experienced a 145% increase.
Here's the list of the best-performing ETFs of January 2023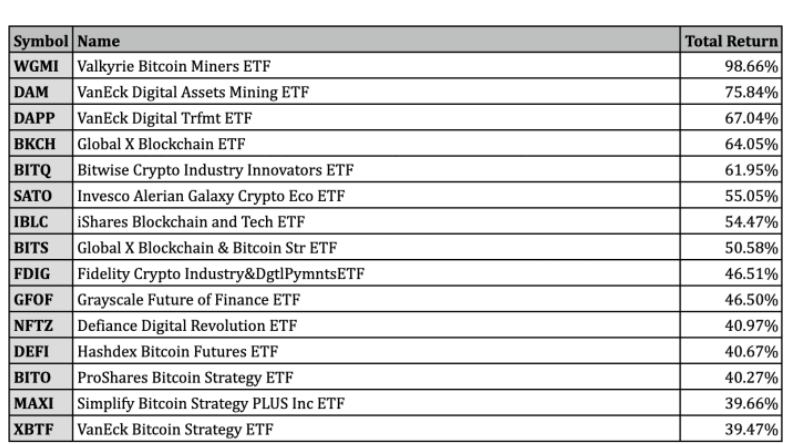 This blog will analyze some of the top ETFs from this list.

Valkyrie Bitcoin Miners ETF
WGMI is an actively managed crypto ETF that invests in firms generating a minimum of 50% of their revenue from bitcoin mining or related services. Unlike other ETFs, WGMI does not directly invest in bitcoin or offer indirect exposure through futures. Instead, it holds common stocks and ADRs traded on worldwide stock exchanges. The $3.9M Valkyrie Bitcoin Miners ETF (WGMI) has led the way with a 101% return since the turn of the year. WGMI has been the best-performing unleveraged equity ETF globally in the first few weeks of 2023, according to data from Morningstar Direct, although it is still down by two-thirds since its inception in February 2022. The fund's latest NPORT filings show that the fund's largest holdings-Bitfarms, Marathon Digital Holdings, and Digihost Technology have seen their share prices surge by between 148 and 279% since the start of January 2023. WGMI also favors companies that use a greater amount of renewable energy in their mining process.
RADiENT data shows that the bitcoin mining company-Bitfarms (BITF) saw its best returns on 12th Jan 2023, the security shows a cumulative return of 124.11% for the month of January 2023.
Users can track the performance of funds and their holdings via RADiENT. To know more reach out to us at support@radientanalytics.com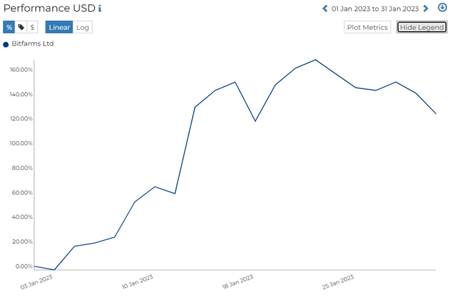 VanEck digital Transformation ETF
The VanEck Digital Assets Mining ETF (DAM) has performed well, with holdings such as Riot Platforms, CleanSpark, and Canaan, contributing to a 77% increase. Despite this success, DAM's current trading level is only what it was in early November, and it remains 76.8% lower from its peak in March 2022.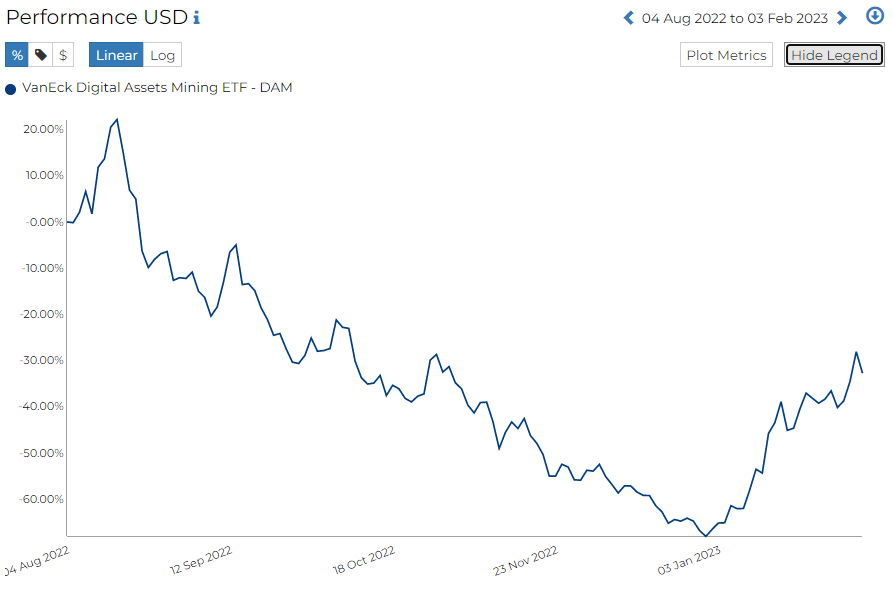 The huge rebounds have not been confined to crypto mining ETFs, with the VanEck Digital Transformation ETF (DAPP) — whose holdings include Block, a payments company created by Twitter co-founder Jack Dorsey, and crypto exchange Coinbase Global — up by 66.8%.
Global X Blockchain & Bitcoin Strategy ETF (BITS)
This fund is an actively managed ETF that seeks to achieve its investment objective by investing directly or indirectly in equity securities of U.S. and non-U.S. "Blockchain Companies" and in long positions in U.S. listed bitcoin futures contracts, it is a non-diversified fund. This ETF is half invested in the affiliated Global X Blockchain ETF, supplemented with Bitcoin futures.
RADiENT shows that this ETF saw an exponential increase in its performance since the start of Jan 2023.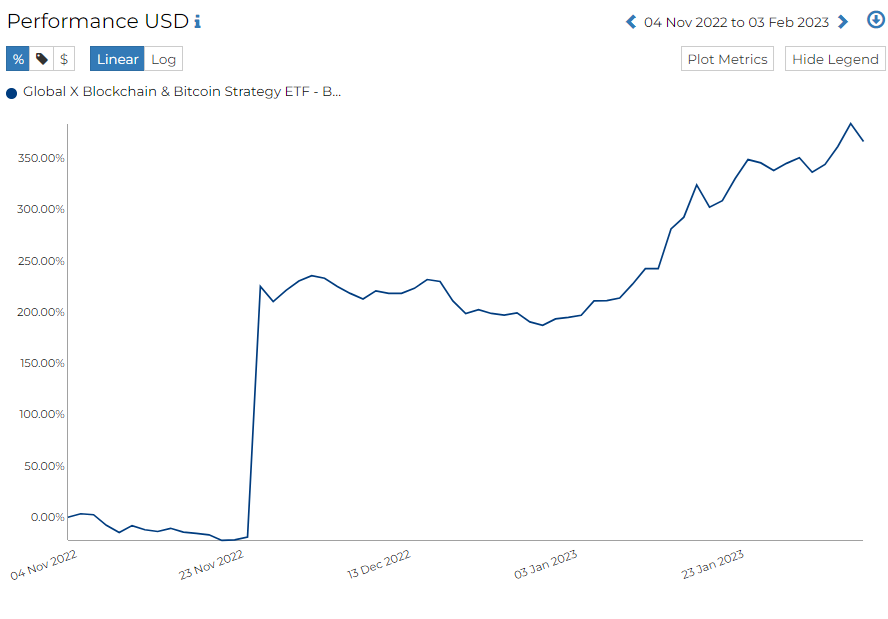 Users can access performance data and SEC filings for these ETFs via RADiENT. To know more reach out to us at support@radientanalytics.com