Cannabis stocks have been gradually gaining popularity with investors. Cannabis is illegal at a federal level in the US, however, favourable legislation is sweeping over North America – several US states have legalized recreational marijuana over the last few years, and in October 2018, Canada legalized marijuana across the country.
The rapid growth and legalisation of cannabis in the US is translating into impressive growth for U.S.-based cannabis companies, while marijuana companies in Canada are expanding at a lower rate.
This industry consists of companies that directly handle research, development and distribution of cannabis products, as well as companies that indirectly support these operations.
Some of the popular cannabis stocks in the US include
In this blog, we cover these popular stocks and the funds that hold them, using data from recent 13F filings.
The security reported net revenue of $15.6 million in Q2 2021, an increase of $5.7 million from Q2 2020. The increase year-over-year was primarily driven by continued growth in the adult-use Canadian cannabis market and increased sales in the Israeli medical cannabis market.
The company added several new products to its range- Spinach DABZ, Spinach Nuggetz etc.
As of 3rd Sept 2021, the security recorded annual returns of 20.6%. The recent 13F filings show that the top holders of this security include the Vanguard Group, Mirae Asset Global Investments, Two Sigma and DE Shaw & Co.

Innovative Industrial Properties
The stock price of IIPR jumped by 12.6% in July. IIPR's monthly gains can be largely attributed to continued investor enthusiasm about the prospects for the cannabis-focused real estate investment trust (REIT). IIPR currently owns properties in roughly half of the states that have legalized medical cannabis. During the last quarter, the company acquired 4 more properties and one more after the quarter ended, bringing the total to 73 properties. IIPR has quadrupled its dividend payout representing an approximately 32% increase over the second quarter 2020's dividend.
As of April 1, the company acquired five properties across the US and executed three lease amendments to provide additional tenant improvements at properties located in Florida and Pennsylvania. The security is held by market giants like Blackrock Inc, Vanguard, State Street Corp, BNT Corp and Northern Trust. Hedge funds that hold this security include – Zimmer Partners, Parametric Portfolios Associates, Great Lakes Advisors etc.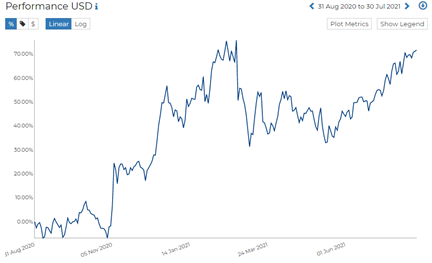 Scotts Miracle reported its Q3 results in July 2021 - company-wide sales increased by 29% for the first nine months to $4.19 billion compared to $3.24 billion a year ago. Net sales increased by 7.8% Y-o-Y to $1,609.7 million.
Reportedly, in Q3, the net sales in the U.S. Consumer division declined 4% year over year to $1,046.2 million (Official Report). However, the company continues to expect US consumer sales growth at 7-9% for fiscal 2021. Interestingly, the segment income decreased 16 % for U.S. Consumers to $264.4 million and improved 37% for Hawthorne to $51.9 million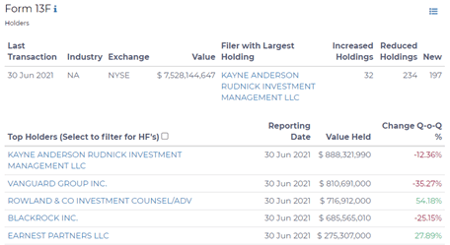 Tilray produces cannabis and cannabis-derived products primarily for global recreational use. Tilray reported its Q4 results on July 28, with an increase in net revenue by 27% to $513 million, compared to the prior year. The security has an annualised return of 135.9% ( as of 30 July 2021).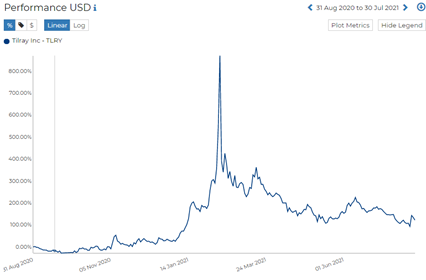 Tilray rose by 40.8% in February as a result of an agreement with "U.K.-based medicinal cannabis company Grow Pharma under which Grow will import Tilray-grown medical cannabis products for U.K. patients". The stock however tumbled nearly 50% the next day. According to CNBC, "The group of cannabis companies are garnering attention from the same WallStreetBets Reddit army that contributed to the epic short squeeze in Gamestop". The sudden rise and drop of the stock are also attributed to the Reddit army.
Cannabis ETFs
Some popular cannabis ETFs include -
Launched in 2015, this ETF has a market cap of nearly $2B. Some of its holdings include- Tilray, GrowGeneration Corp, Cronos Group and Altria Group. 53% of the fund's net assets are held in the US and 38% of the net assets are held in Canada.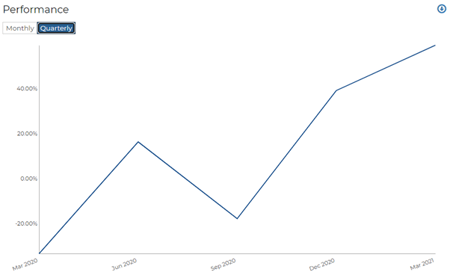 With the lowest expense ratio amongst the (0.51%), this passively managed fund outperforms many of the actively managed funds with a rare dividend yield of roughly $0.14 per share. RADiENT data shows that this fund has a market value of $227M with a turnover of 15.6%. The fund has a total of 26 holdings and the largest additions include – Sundial Growers, Fire & flower Holdings Corp and Corbus Pharmaceuticals.
RADiENT enables users to access cross-referenced filings data to facilitate easy analysis of funds and securities. Should you wish to know more sign up or reach us out at support@radientanalytics.com