At RADiENT, we continue working on bringing you the most comprehensive insights from regulatory data, and kick off 2020 with the launch of the N-CEN explorer. The N-CEN filing was introduced as a part of the SEC's new transparency requirements, replacing the N-SAR, and asks for census type info from registered investment companies on an annual basis. To date, we have over 2,000 firms with more than 4,000 N-CEN filings on the RADiENT platform. The filing contains data on firm background, directors and compliance officers, fund information, brokers, custodians, administrators, accountants, security lending, investments in controlled foreign corporations and much much more.
In this article, we look at T. Rowe Price International Funds, Inc., which has filed 7 form N-CENs in the past 12 months.
Background, Fund & Personnel information
A quick look at their latest N-CEN filing gives us the following basic background information:

Background details
T. Rowe Price International Funds lists the following 9 funds with fiscal years ending in December.

Funds
The total monthly average net assets of these funds adds up to $17.5b, and cumulatively, they have a total of 24 share classes outstanding.
Form N-CEN requires companies to list their directors and chief compliance officers. T. Rowe Price International Funds list 10 directors and 1 chief compliance officer in this filing.

Personnel
In addition to the above, the form also contains information on financial support from affiliated entities, NAV errors, changes in valuation methodologies etc.
Fund activities & service providers
In section C, the form requires detailed information on securities lending transactions, principal agents of the funds including total value of purchases and sales and also cash collateral managers, types of payments, and indemnification arrangements.

Security Lending - Agents view
Funds are also required to list the top brokers, custodians and administrators that they engage with.

Brokers
As is apparent, there is a lot of detailed information on the service providers. The N-CEN Explorer allows you to explore this deeply - apart from being able to flip between the brokers and funds views of the data, you can also view the historical changes in the brokers engaged by the funds and the commissions earned.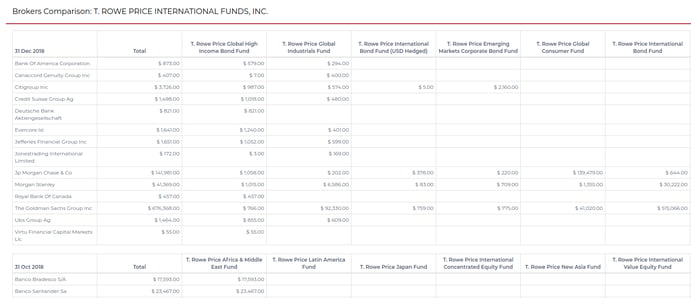 Historical broker data
In addition to the above, the filing also contains information on the accountants and underwriters that the firm uses, inter-fund lending and borrowing, lines of credit and much more!
The RADiENT N-CEN Explorer is completely integrated with the RADiENT SEC Filings Explorer, allowing you to search the filings by firm name, fund name, type of fund, and service providers. Soon, the N-CEN explorer will be full integrated with the RADiENT investment analytics platform too, making fund performance and metrics accessible with a single click.
Are you interested? We would love to hear from you about possible use cases - get in touch with us at support@radientanalytics.com
Next up is the N-PORT filing, which promises to reveal detailed information on firm holdings on a monthly basis. Stay tuned!
Sign up for free or simply visit RADiENT to try these tools now!