SPACs are known to give venture capital like experience in the public markets which attract amateurs seeking their inner Elon Musk. But it rarely seems to be working for the retail crowd. Originally invented 25 years ago for smaller companies to access the capital they would otherwise have difficulty obtaining, SPACs have recently become popular among retail investors seeking higher risk and a little excitement by investing alongside celebrities and proven entrepreneurs.
In 2020, more than 200 new SPACs raised $73B. Another $38B was raised by SPACs in January 2021, the single biggest month of SPAC issuance ever and about double what companies raised in the same month through traditional IPOs. In February 2021 there were 50 SPAC mergers, the most of all time, at nearly $108.6 B
How have SPACs performed in the last 2 years?
Goldman reported in September, "SPAC returns have been weak, especially following deal closure. Of the 172 SPACs that have closed a deal since the start of 2020, the median has outperformed the Russell 3000 from its IPO to deal announcement," the Goldman strategists note. But "in the six months after deal closure, the median SPAC underperformed the Russell 3000 by 42 percentage points."
Renaissance Capital's Kennedy (Sr IPO Strategist) stated, " 70% of SPAC IPOs so far this year are trading below their $10 offer price (that's through September 15, and includes those that have announced and a few that have completed mergers). And of the SPACs that have completed mergers in 2021, 58% trade below their original offer price"
According to Pitchbook, 317 SPAC IPOs were launched in the first quarter of 2021, 106 in the second quarter and 111 in the third quarter. Now, there's a rising trend in deals getting cancelled. Eight SPAC mergers have already been called off since the beginning of Q4 2021, compared to seven terminations for all of Q3, none in Q2, one in Q1.
The most prominent cancelled mergers are FAST Acquisition and Fertitta Entertainment, Pathfinder Acquisition and ServiceMax Northern Star, II and Apex Fintech Solutions, and Valo Health and Khosla Ventures Acquisition. Fast and Fertitta Entertainment agreed to terminate their merger after the parties' disagreement over the termination date in the merger agreement.
57 SPACs began trading publicly in October, the highest since March when a record of 109 SPACs were launched.
A Deeper dive into some SPAC's…..
Operating Co. Sector: Aerospace
Date Announced: Feb. 24, 2021
Acquirer (SPAC): Reinvent Technology Partners
Valuation: $6.6 billion
Large Investors: Intel Capital, Capricorn Investment Group
Top 13F holders: Baupost Group, Tiger Global Management, Serengeti Asset Management
Reinvent Technology Partners announced a deal in February to merge with the electric vertical take-off and landing company Joby Aviation. Joby Aviation started trading under the ticker "JOBY" after combining with Reinvent Technology Partners, a SPAC run by LinkedIn co-founder Reid Hoffman and Zynga founder Marc Pincus. Shares of Joby Aviation surged more than 20% after opening at USD10.62 on their first day of trading after the company's SPAC merger.
RADiENT data shows that the best day for JOBY since 1st Jan 2021 was the day it listed on NYSE (11th August 2021), rose to as high as $14.33, up 42.9% from the $10.03 final close Tuesday for Reinvent Technology Partners. The security closed at $13.40, up 33.6% for the day. Additionally, nearly 25M shares of the security were traded on the day it announced its merger with RTPY.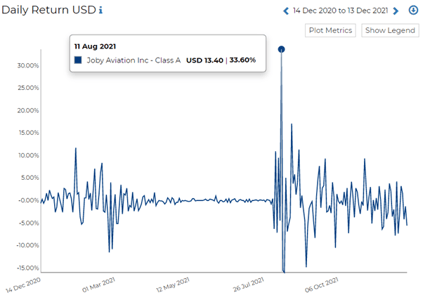 The SPAC deal also included an $835M private placement led by Uber, billionaire Seth Klarman's Baupost Group and entities affiliated with BlackRock, Fidelity and Baillie Gifford.
Operating Co. Sector: Commercial Real Estate
Date Announced: March 26, 2021
Acquirer: BowX Acquisition Corp.
Valuation: $9 billion
Some Investors: SoftBank Vision Fund, Hony Capital
13F Holders: Balyasny Asset Management, Ancient Art LP and TIG Advisors
Shares of WeWork closed up more than 13% after the company went public through a special purpose acquisition company more than two years after its failed IPO and after facing massive Covid-19 losses.
The office-leasing company scrapped plans for an IPO in 2019 after investors raised concerns over its business model and corporate governance
SoftBank made its first multi-billion dollar investment in WeWork in 2017 through its $100 billion Vision Fund. The Japanese tech giant invested a total of $18.5 billion in WeWork in the lead-up to its failed IPO. In October 2019, SoftBank spent another $10 billion for an 80% stake in WeWork.
On 21st October 2021, WeWork completed the merger with BowX Acquisition Corp, a SPAC. WeWork received $1.3 billion, including a fully committed $800 million private placement investment from investors like Insight Partners, funds managed by Starwood Capital Group, Fidelity Management & Research Company LLC, Centaurus Capital, and funds and accounts managed by BlackRock
RADiENT data shows that WE saw a sudden increase in its share price on the day of the acquisition announcement to USD11.71 from the previous days USD 9.73, and increase of 20.3%. Additionally, 33.8M shares of WE were traded on this day, this has been the highest volume traded for this security to date. The combined company's stock (WE) rose 13% during its first day of trading giving it a valuation of $9.3 billion.
Polestar
Operating Co. Sector: Automotive
Date Announced: Sept. 27, 2021
Acquirer: Gores Guggenheim Inc.
Valuation: $20 billion
Some Investors: Leonardo DiCaprio, Volvo Cars Group
Polestar merger with a U.S.-listed blank-check firm backed by billionaire Alec Gores and investment bank Guggenheim Partners at an enterprise value of $20 billion. The deal with Gores Guggenheim (GGPI.O) will provide Polestar cash proceeds of over USD1B, including USD800M from the SPAC, and from private investment in public equity, of USD250 M from institutional investors.
Current investors, including Hollywood actor Leonardo DiCaprio, will own 94% of the combined group – Polestar Automotive Holding UK Ltd – which will trade on the Nasdaq under the ticker symbol PSNY. The proposed merger should close in the first half of 2022.
According to data on RADiENT, GGPI saw a sudden jump in its price on 27th Sept by 4.7%. On the day of the merger announcement, a total of 43.4M shares of GGPI were traded, in contrast to 864K shares traded on the previous business day.
You track more such SPAC performances on RADiENT!