Fund flows are the net of all cash inflows and outflows of various financial assets, measured on a monthly or quarterly basis. The performance of an asset or fund is not taken into account, only share redemptions, outflows, share purchases, or inflows.
Fund flows help fund managers get insights into investor sentiments. Inflows may suggest that investors are optimistic about potential future returns while outflows suggest that investors are warier.
Preliminary Q1 2022 Fund Flow Data
Looking at the preliminary fund flows for the first three months of 2022, we can gauge how the investors reacted to the recent global events. In Q1 2022 broad-based equity indices were marked by losses -NASDAQ(-9%), Russell 2000 (-7.80%), S&P 500 (4.95%) and DJIA (-4.57%). This fall in the indices could be attributed to the current global macro events like the Russian Ukraine war, the post-pandemic global economy struggling with massive consumer demand, etc.
According to a report by Refinitiv, the fixed income markets as well, both the Bloomberg Municipal Bond Index ( -6.23%) and Bloomberg U.S. Aggregate Bond Index (-5.93%) finished Q1 2022 in red.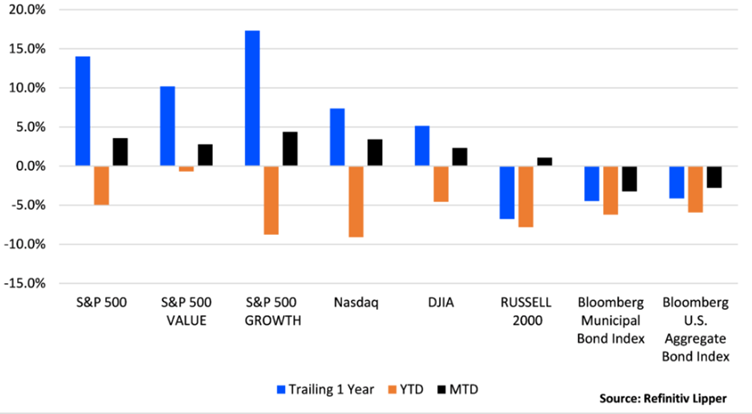 According to RADiENT Data, BNY Mellon's Municipal Bond Fund saw cash outflows of $17M in the first two months of 2022, whereas the inflows stood at $8M only. The fund reported a market value of $1.12B in its recent Form N-PORT filing and a turnover of 7.66%.

American funds Corporate Bond Fund in its recent Form NPORT filing disclosed the following fund flows for the first two months of Q1 2022.

The preliminary fund flow data for March 2022 shows that the market participants shunned fixed-income funds as data shows outflows of $7.5B from taxable bond funds and $6.3B from tax-exempt bond funds. The rise in interest rates seems to have incentivized investors to invest in shorter duration and international income funds.
ETFs
Equity ETFs
ETFs recorded strong net inflows in the month of January and in the first half of February.However by the end of February 2022, financial/banking ETFs (-$1.1 B), tech ETFs (-$781M), energy ETFs (-$720 M), and healthcare/biotech ETFs (-$379M) were the top flow detractors.
SPDR S&P 500 ETF ($1.4B) and SPDR Gold ( $605M) attracted the most inflows as of 24th February 2022.
Fixed Income ETFs
By the end of February 2022, Government-Treasury ETFs ($1.4 B), corporate-investment grade ETFs ($802 M), and international & global debt ETFs ($251 M) were the only attractors of capital under fixed income ETFs.
Some of the other funds that saw high inflows were:
iShares iBoxx Investment Grade Corporate Bond ETF
The recent Form NPORT data on RADiENT shows that this fund saw inflows worth $3.6B in Feb 2022 and $2.9B in January 2022. With a market value of $37.5B, the fund's largest additions for the last reporting period included Goldman Sachs, BlackRock Funds, Bank Of America and Citigroup.


RADiENT data shows that this fund brought inflows of ~7B over the first two months of 2022.

Additionally, some of the larger hedge funds that held this security in their portfolios for Q1 2022 include Deer Park Road Corp, Paloma Partners Management and Global Endowment Management. Track similar fund managers of TLT using Form 13F on RADiENT.
Fund Flows for Q4 2021
Long-term mutual funds and ETFs collected $88B in December, bringing their annual total to $1.2T. According to Morningstar data, Passively managed funds had approximately $96B of inflows in December while active funds had more than $8 of outflows. Passive funds had a $958B intake in 2021, over $700B more than their active counterparts.
Some major funds and their fund flow disclosures:
RADiENT data shows that PIMCO's ETF Trust Fund saw inflows of $89.5M in November 2021 and $26M in December 2021.
AQR's Risk Balanced Commodities Strategy Fund with a market value of $236M, reported a cash inflow of $65M over the last quarter of 201 and cash outflows of $37.5M.
Berkshire's Focus Fund performed its best in December 2021 for the first time after its performance in November 2020. The fund reported a significantly higher outflow in its last quarter of 2021 at $70.5 M in contrast to inflows worth $ 57M. According to the Form NPORT data on RADiENT, some of the largest additions by the fund were Marvell Tech, Zoom Info, Ford Motor, and On Semiconductor Corp.

Northern Lights' Counterpoint Tactical Equity Fund with a market value of $11M and a turnover of 40.5% disclosed fund inflows worth $1.3M over three months from October to December 2021.

In December 2021, U.S. equity funds had inflows of $30B, making their 2021 total intake worth $151B. After record outflows of $240B in 2020, investors reembraced U.S. equity funds in 2021 as interest rates remained low and the markets started to perform better. Passive funds brought in nearly all of U.S. equity inflows at $346 B, while active funds witnessed outflows of $195B.
ESG Funds
Global ESG funds saw inflows of $71B in 2021 that surpassed 2020's $51 B. Sustainable U.S. equity funds led the group with $34B of inflows.
Sectoral Funds
Sector-equity funds ended 2021 with just a $4.8B inflow in December, with record annual inflows of $98B. Finance centric funds led the inflows with $24B in sales, followed the real estate funds with $18B inflows and energy equity funds with $11.5B.
Some funds with the highest inflows for Q4 2021 are :
T Rowe Price Financial Services Fund – Financial Sector

Fidelity Select Brokerage and Investment Management Portfolio- Financial sector
Fidelity reported funds inflows worth $108M in sales in November 2021 and $65M in December 2021. The fund's market value as of 27th April 2022 is $1.2B .
iShares US Real Estate ETF – Real Estate Sector

This fund's market value as of 25th December 2022 was $7.3B, with the largest security deletions for the period including Lexington Realty Trust, VEREIT inc and Healthpeak Properties Inc.
Users can leverage Form NPORT data on RADiENT to track fund flows, holdings and performance etc of custom funds. To know more, reach out to us at support@radientanalytics.com