Founded in 1981, Dimensional Fund Advisors has a long history of applying academic research to practical investing. The investment management company bases its investing strategies on economic theory and research generated within the hallowed halls of institutions like the University of Chicago, Dartmouth College, Harvard University, Yale University, and the University of Pennsylvania's Wharton School.
Dimensional's mutual funds utilize core equity, small-cap, value, and fixed-income investment strategies. They also employ asset allocation and global strategies and offer separately managed accounts and real estate securities portfolios. DFA has offices in the US, Europe, Australia, and the Asia Pacific.
Dimensional Fund Advisors recent Form ADV discloses a total registered AUM of $650B as of 24th September 2021, with 442 discretionary accounts, of which 28 are High Net Worth Clients ($1.6B), 183 Investment companies ($521.7B) and 40 are State or municipal government entities ( $19B).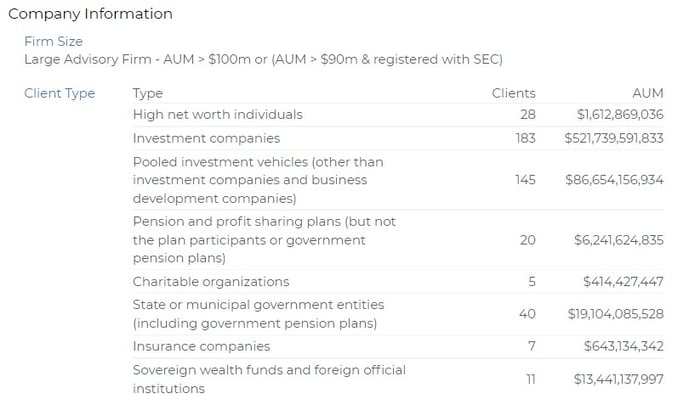 The filing also discloses 5 private funds in section 7B(1) with a total gross asset value of $4.8B. All 5 funds have PWC as their Auditor and State Street Bank and Trust Company as their Administrator. Section 7B(2) discloses an International Equity private fund with Adviser Ullico Investment Advisors Inc. The firm discloses no regulatory, civil, or judicial charges in its recent Form ADV.
In recent news, Dimensional Fund Advisors are on track to be one of the industry's biggest exchange-traded fund providers. The RIA has launched 4 new fixed income-based ETFs and filed for 10 more equity ETFs in recent weeks. " Dimensional's co-CEO, Gerard O'Reilly says, "Its latest launches — the Core Fixed Income ETF (DFCF), National Municipal Bond ETF (DFNM), Short-Duration Fixed Income ETF (DFSD) and Inflation-Protected Securities ETF (DFIP) — offer investors several ways to address inflation
RADiENT aggregates all firm-level filing data on the summary page of the adviser. Form 13F for Q3 2021 shows that Dimensional Fund Advisors have a market value of $310B with top holdings in Apple, Microsoft, Amazon, JP Morgan Chase Co and Facebook. The firm has held shares of JP Morgan and Comcast Corp in its top 10 holdings since June 2013.
The three top-ranked mutual funds (Each has earned a Zacks Mutual Fund Rank #1 ) managed by Dimensional Funds Advisors are :
DFA US Targeted Value Portfolio Class R1
This fund seeks capital appreciation over the long term and invests in a diverse range of the readily marketable securities of U.S. small as well as mid-cap companies that its advisor identifies as high-profitability value stocks.
RADiENT data shows that this fund has Net Assets worth $11.2B, an expense ratio of 0.47% and a turnover of 23% as of 20th Dec 2021. Managed by Jed Fogdall, the fund distributes dividends every quarter.
DFA Global Allocation 25/75 Portfolio Class R2
This fund aims to provide long-term capital appreciation. The Tax-Managed Value Portfolio achieves its objective by investing a significant part of its assets in the Tax-Managed U.S. Marketwide Value Series of DFA Investment Trust Company. DFGPX invests the majority of its assets in securities of American companies
DFGPX was founded in 2003 and is currently managed by David Plecha. This fund has net assets worth $898M with an expense ratio of 0.67%.
Categorized as a retirement class fund, DFGPX distributes dividends on a quarterly basis.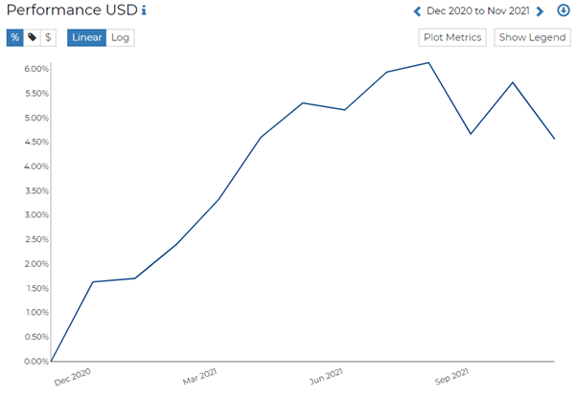 DFA U.S. Social Core Equity 2 Portfolio
DFUEX aims for long-term capital appreciation. The fund invests the majority of its net assets in a broad and diverse group of securities of U.S. companies based on its social issue screens. The fund managers emphasized small capitalization, value, and high-profitability companies.
RADiENT data shows that this fund has an annualized return of 17.3% ( 1 year ending 20 Dec 2021) with a Sharpe ratio of 1.33
Recent Form N-PORT filed by the fund discloses that DFUEX primarily invests in the tech, financial, and consumer cyclical sectors. The fund's top holdings include- Microsoft, Apple, and Amazon.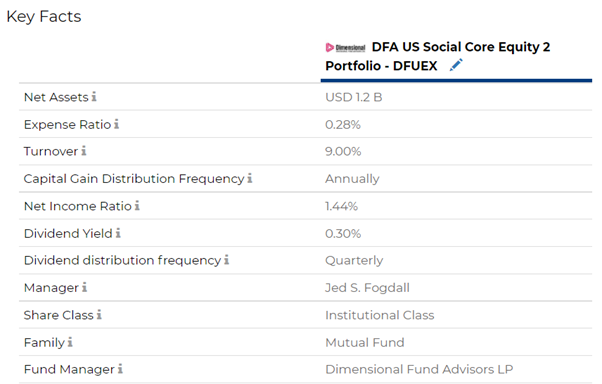 You can view the fund level performance of all 113 mutual funds managed by DFA on RADiENT!

To know more visit RADiENT or write to us at support@radientanalytics.com