Form NPORT is the reporting form to be used for monthly reports of Funds other than money market funds and SBICs. Funds must file their forms with the SEC no later than 60 days after the end of that fiscal quarter.
Fund Obligations towards Form N-Q

Form NPORT replaces Form N-Q, once a fund begins filing reports on Form N-PORT, it will no longer be required to file reports on Form N-Q. Moreover, when a fund ceases filing reports on Form N-Q, its certification on Form N-CSR must cover any change in the registrant's internal control over financial reporting that occurred during the most recent fiscal half-year, rather than the registrant's most recent fiscal quarter as currently required
Form NPORT disclosure information
Funds must disclose portfolio information as calculated by the fund for the reporting period's ending net asset value

Data related to the pricing of portfolio securities

Information regarding repurchase agreements, securities lending activities, and counterparty exposures

Terms of derivatives contracts

Discrete portfolio level and position level risk measures to better understand fund exposure to changes in market conditions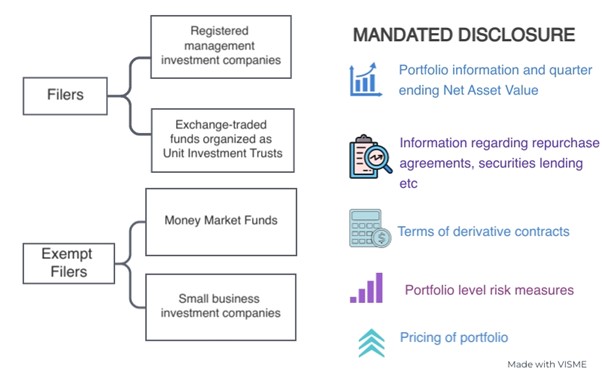 Form NPORT data for Investors
The SEC decided to keep the initial filings

for the months ended March 31 through August 31, 2019, as non-public filings.

However, regulators will not make public N-PORT information for the first and second months

(Form NPORT-NP) of each fund's fiscal quarter
The following information about the funds will not be made public:
Highly liquid investment minimum information

Country of risk

Liquidity classification information

Delta for debt securities

Delta for options and warrants

Delta for other derivatives

Part D: Miscellaneous securities
Furthermore, the commission states that the funds would only need to list the top 50 components of a non-public index unless these components represent more than 1 percent of the notional value of the index or custom basket.
Amendment Proposal by the SEC: Fund Names Rule
Read more about this amendment here.
The new reporting item regarding a fund's 80% investment policy, would require such funds to report the value of the fund's 80% basket as a percentage of the value of the fund's assets and, if applicable, the number of days that the value of the fund's 80% basket fell below 80% of the fund's assets during the reporting period.
A registered investment company would be required to provide information relating to new reporting items as of the end of the reporting period, and the information would be publicly available for the third month of each fund's quarter. As proposed, money market funds and BDCs, which are not subject to Form NPORT reporting requirements, would not be subject to the proposed new reporting requirements