ESG funds have been on a rise in recent times, at their current growth rate, ESG-mandated assets are on track to represent half of all professionally managed assets globally by 2024.
Investment management firms globally are responding to the growing investor interest in ESG-aligned products by rebranding existing funds and by launching new ones that target specific sustainability objectives.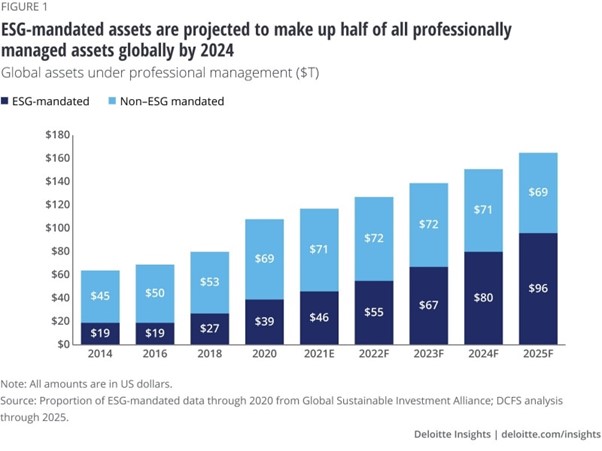 In the US, fund managers launched 149 mutual funds and ETFs with ESG characteristics in 2021, comprising about 22% of all fund launches. These funds grew more than twice that of funds without ESG characteristics, 80% vs 34%, respectively. Investor preferences for an ESG strategy continued to drive inflows in actively managed ESG funds, while their non-ESG actively managed counterparts continued to experience outflows
However, the ESG funds witnessed major outflows worth $1.6 B during Q2 2022 amid fears of recession, inflation, rising interest rates, and a global energy crisis. This was the first quarter of outflows in more than five years, before sustainable funds made it to the main stage.
Together with market depreciation, sustainable funds' net outflows drove assets in these funds to $296 B, their lowest point since the Q1 of 2021. However, on a semi-annual basis, the U.S. sustainable funds market grew 2.5% during the first half of 2022; by comparison, the total U.S. market shrunk by 0.39%. From July 2021 through June 2022, the sustainable funds market grew by 13%; the total market grew more modestly by 1.4%.
Sector equity funds, including many clean energy/tech climate funds, were the hardest hit.
Some of the Largest ESG Funds by Fund Flows
Investors continued to pour money into Invesco Floating Rate ESG AFRAX. It saw $381M in net flows for the quarter, landing it in second place among U.S. sustainable funds with the largest inflows. This strong demand boosted the fund's total year-to-date flows to $1.6B to secure the lead for the first half of 2022. Invesco Floating Rate ESG also topped the chart for net flows in 2021.
RADiENT data shows that AFRAX saw its worst ever drawdown on 13th June 2022.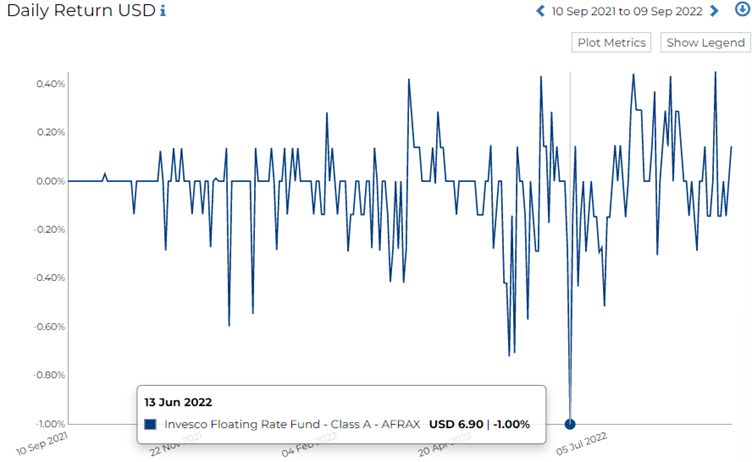 IShares ESG Aware MSCI Emerging Markets ETF ESGE shed $1.3B and topped the list for worst outflows among U.S. sustainable funds in the second quarter. The fund's assets totalled $4.4B at the end of the quarter, down 31% from the previous quarter. One factor driving these outflows was a change in BlackRock's recommendations for the Target Allocation ETF model portfolio series, which had nearly $40B in assets under advisement as of March 2022.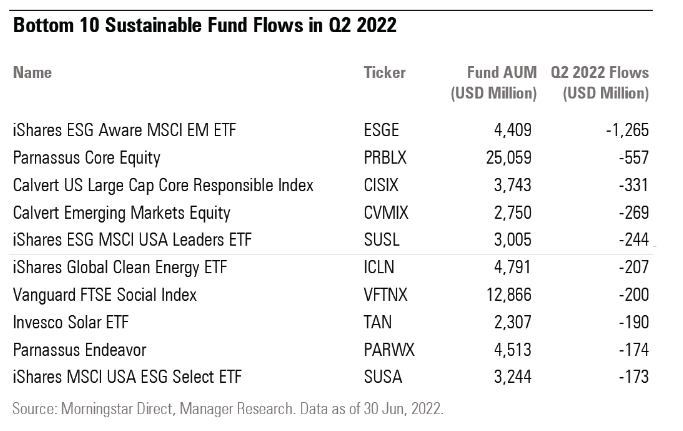 Track the performance of these funds on RADiENT.
ESG fund Regulatory Updates
The first half of 2022 saw significant SEC enforcement and rulemaking activity around ESG investing. In its regulation, the SEC is primarily concerned with the exaggeration of a firm's ESG story to attract sustainability-focused investors. To tackle this concern, the commission brought forward two proposals.
-The SEC has proposed to change the so-called Names Rule — to more strictly define how a fund's constituent investments should be reflected in its name — and the other was on proposals for strict requirements on ESG disclosures for investment advisers and investment companies.
- The SEC also proposed that the funds require the use of the ESG criteria in their investment process to disclose more about how they do so in their prospectuses and annual reports. The proposal identifies and defines three broad types of ESG funds: ESG Integration, ESG Focused, and Impact.
Stay tuned for more ESG Updates