The RADiENT platform acquires, integrates, and generates insights from financial and regulatory data. This data can be accessed by users using RADiENT's interface or by subscribing to our datasets and APIs. This data allows users to track private and public funds, analyze regulatory filings and derive market insights.
RADiENT structures data from regulatory filings filed with the SEC, IAPD and other regulators. This data is updated daily and tested for discrepancies. Additionally, our proprietary algorithms integrate filings from heterogeneous sources to deliver unique insights.
Some examples for uses of our datasets include:
Portfolio Attribution

Finding high growth RIAs

Developing market insights on prime brokers and

Identifying crowded trades

Investment analysis from statistical metrics such as returns, correlation coefficients and fund betas



Easily Integrate Data into Your Infrastructure
- RADiENT allows users to manage datasets configurable with mobile and desktop environments, cloud platforms, digital portals, and more for endless access.
-RADiENT APIs are flexible and deliver a customized selection of filing and performance metrics that integrate easily with your data management platform.
Access Specific Datasets via Data Platforms and Spreadsheets
Users can now access all RADiENT datasets via cloud-based data platforms such as Snowflake and AWS. Datasets can be also delivered on spreadsheets via prescheduled emails.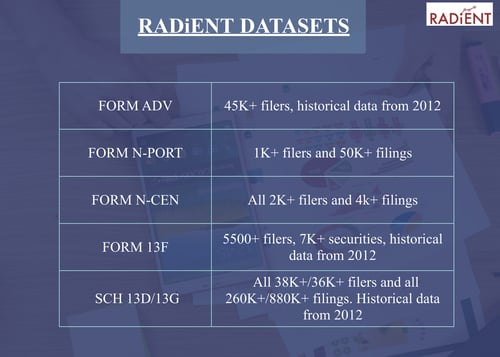 Along with each dataset, RADiENT provides complete documentation. This documentation includes a description of all tables, their relationships with other tables and an explanation of any constraints/ triggers
RADiENT regularly updates its data to capture performance and regulatory filings. Users can set favorites and opt to receive firm/ fund specific notifications
Cross-Referenced Data to Derive Unique Insights
RADiENT employs its proprietary algorithm to cross-reference several regulatory filings and allows easy analysis and comparison of funds/ firms.

Fund holdings are mapped to standardized security tickers. Performance data of these securities is also integrated.
This facilitates an aggregate view for all securities including less frequently traded instruments such as derivatives, asset-backed securities, collateralized debt obligations etc.
Third-Party Data Providers on RADiENT
Morningstar data is integrated with RADiENT's features to capture all nitty-gritty details on manager history, fund performance and risk disclosures in a single place. RADiENT also integrates additional variables such as warning flags from regulatory filings, changes in investment style and other related data that could affect the performance of funds (eg: a sudden switch in the manager).
Eurekahedge fund data on RADiENT covers over 30,000 funds and benchmarks and enables a quick custom search for factor exposures, risk-return profiles, strategies and ratios.


RADiENT provides clean, updated unique datasets that enable predictive analytics, improve risk management, and help you make informed investment decisions.
To learn more about our big data solutions, reach out to us at support@radientanalytics.com