Commodities have outperformed other asset classes in 2022, buoyed by strength in oil and rising inflation in food prices. The Global Price Index of All Commodities has more than doubled since its pandemic low in Q2 '20, pushing 62% higher than its average during the last business cycle.
Russia's invasion of Ukraine is roiling the market for many crucial commodities. Russia supplies 10% of the world's oil and is a major exporter of metals like palladium and nickel. Russia and Ukraine together account for approximately a quarter of the world's wheat exports.
As of 21st June 2022
Commodities have outperformed equities as inflation increases

Crude oil leads the price rally in commodities, rising 48% so far this year

Commodities are rallying despite a strengthening dollar



Commodities have rallied this year, outperforming equities and underscoring their credentials as a hedge against rising inflation, and as a portfolio diversifier.
Leading the rally in commodities has been oil, with WTI crude oil surging 48% this year owing mainly to Russia's invasion of Ukraine and the subsequent sanctions on Russian oil exports by the U.S. and Europe.
According to RADiENT data, S&P 500 Energy Index has returned over 30% in the last 1 year. The index recorded its highest daily returns on 21st June 2022 at 5.14%.
The S&P 500 energy sub-index, comprising 21 big oil and gas groups, jumped by almost a third in the first six months of the year, when the broader market recorded its worst half in more than 50 years.
Some popular Oil and Energy funds on RADiENT
State Street Global Advisors'- XLE
XLE's performance is dominated by just two stocks, Exxon Mobil and Chevron, whose weight dwarfs all the other stocks held in XLE. Each, on its own, makes up over 21% of the total value of the whole ETF. The weight of the next largest holding, ConocoPhillips is less-than one fifth of the weight contributed by either Exxon Mobil or Chevron.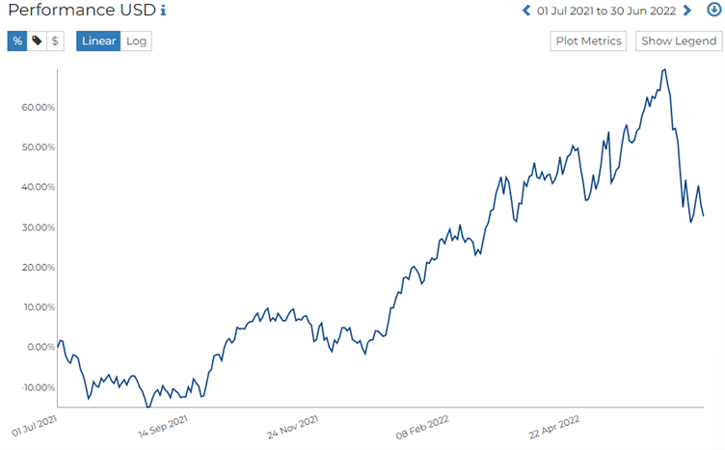 The fund gives an annualized return of 32.3% for the period of the last year and recorded 21 June 2022 as the best day in terms of returns. The Energy Select SPDR Fund (XLE) moved to a new multi-year peak last week and is approaching a challenge of the 2008 all-time high. The rallies in crude oil and natural gas have created an earnings bonanza for the sector. US energy policy has made the entry barriers high, providing a virtual monopoly for the well-capitalized US energy giants.
BlackRock All-Cp Energy and Resources Fund-BACCX
According to the latest Form NPORT filing on RADiENT, the top holdings by this fund include Chevron, Shell, Total Energies, and Exxon Mobil. The fund invests at least 80% of its total assets in equity securities of global energy and natural resources companies and companies in associated businesses, as well as utilities (such as gas, water, cable, electrical, and telecommunications utilities).
BACCX saw 54% positive days for the last year and peaked on 21st June 2022 at 5.01%.
Natural gas prices have also risen substantially, up more than 81% this year boosted by strong demand, exports from the U.S., and relatively low inventories. The invasion of Ukraine also impacted prices for agricultural commodities such as wheat and corn, which have surged about 100% from their 2020 lows. Lithium, used in the production of batteries for electric cars, has soared 71% this year as the gains in crude oil prices and growing concerns over climate change accelerate the demand for electric vehicles.
Track more such Oil and Energy Funds using the RADiENT Screener
Oil and Energy Indices
S&P Goldman Sachs Commodity Index traded more than 30% higher so far this year as of 30th June'22, up nearly 2% for the second quarter, but also down more than 6% for the month of June, following six consecutive monthly gains.

The index had an annualized return of 90.31% with 61% positive days for the period June 2021-22.



The S&P GSCI Energy index trades over 53% higher this year, on track for a quarterly gain of more than 11%, though down over 4% month to date.






U.S. benchmark West Texas Intermediate crude was nearly 41% higher this year, while global benchmark Brent crude tacked on almost 48%, for the worldwide benchmark's best first-half start since 2009.
Users can track the commodities market in depth on RADiENT! To know more write to us at support@radientanalytics.com