Exchange-traded funds (ETFs) have been increasingly popular among investors as a way to diversify portfolios and access a range of assets with ease. In 2022, some ETFs have outperformed others, delivering impressive returns for their investors.

In 2022, while the S&P 500 lost 19% on the year, the 10 top-performing ETFs of 2022 gained between 44% and 99%. Topping the charts of best performers in the market are energy sector ETFs. The energy sector was the biggest contributor to earnings growth for the S&P 500 at 5.1% as crude oil prices jumped 31% and natural gas surged 76%.

RADiENT data tracks the performance of the best-performing ETFs of 2022

iShares US Energy ETF (IYE)

RADiENT data shows that this open-ended fund reported an annualized return of 48.25% for 2022. IYE has about $2B in assets and a short list of about 40 of the top stocks in the sector. Some of the top holdings of this fund include -Exxon Mobil, Chevron, ConocoPhilips, and EOG. The top three holdings of the fund represent about 46% of all assets between them.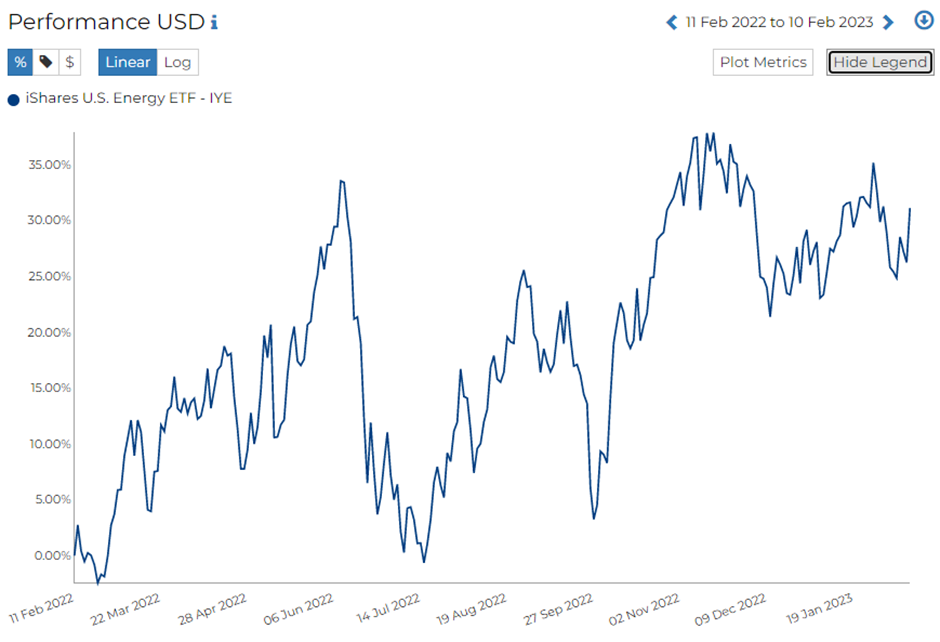 Energy Select Sector SPDR Fund (XLE)

XLE is a large-cap energy fund where oil, gas, and consumable fuels make up nearly 91% of the fund's portfolio with the remaining assets dedicated to energy equipment and services names. XLE commands $39B in total AUM and has roughly 25 components, led by a mix of familiar integrated Big Oil giants as well as the largest service providers. The top two holdings of the fund- Exxon Mobil and Chevron account for more than 45% of the fund's AUM.




RADiENT data shows that the fund closed 2022 at 59.2% and nearly 66.67% of the year returning positive returns. XLE's best month was October 2022.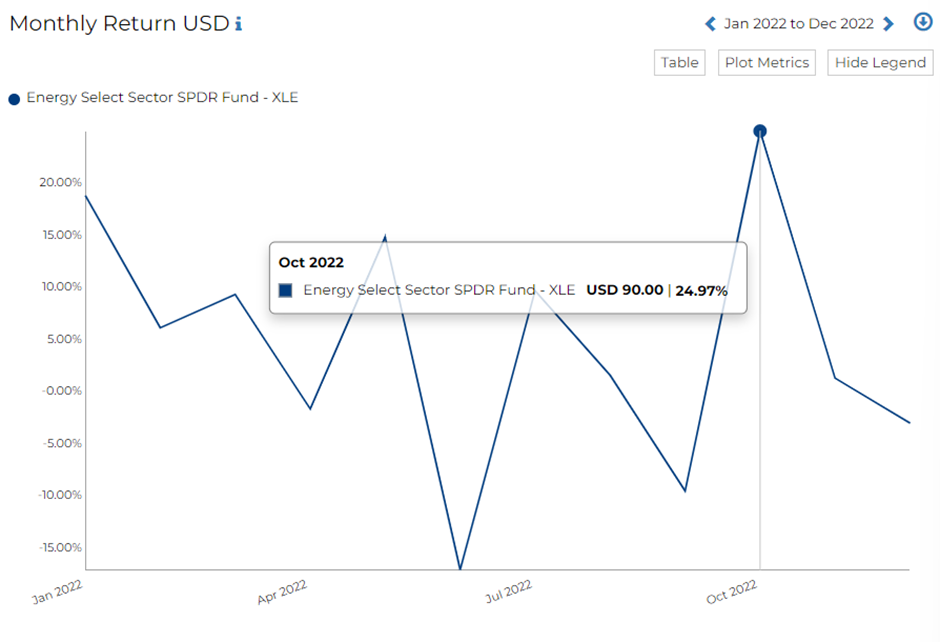 As per the last 13F filings of 2022, XLE was held in the portfolios of 4 hedge funds that contribute to 30.4% of the total 13f ($338B) value of this security. The largest hedge fund holders of XLE are Churchill Management Corp, DE Shaw & Co Inc, and Summit Rock Advisors. Track the other holders of this security via RADiENT.



SPDR S&P Oil and Gas Equipment and Services ETF (XES)

XES is an exceptional oil industry investment option that follows an "equal weight" approach. It is specifically limited to oil and gas service providers – that is, companies that offer contract drilling services, mobile onshore and offshore rigs for hire, and other support for the sector.

With a reported return of 50% in 2022, XES reported October 2022 as its best month, with monthly returns at 42.3% on RADiENT. (RADiENT calculates monthly returns reported by the fund with the mean and the standard deviation, for the time period selected.)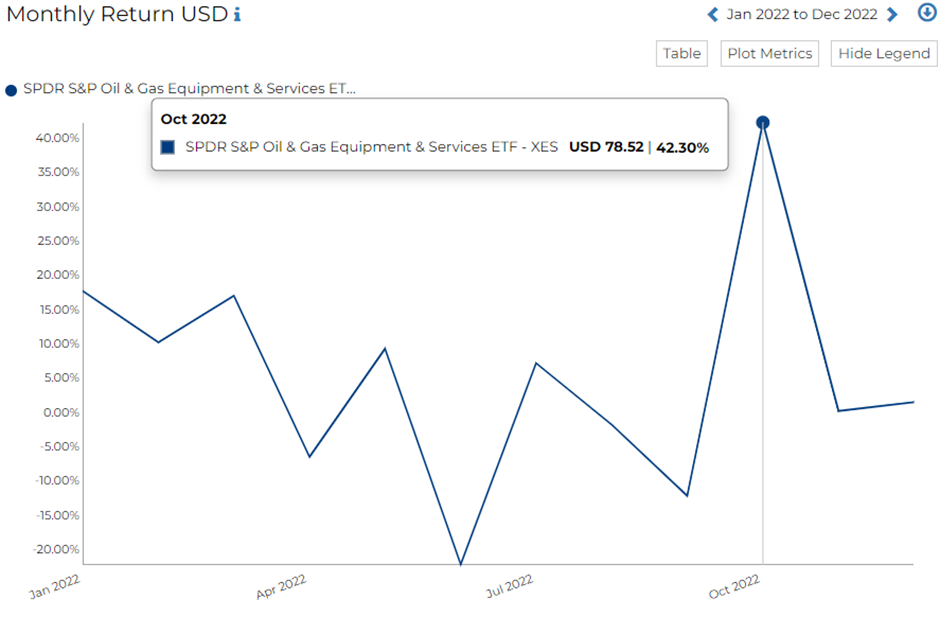 VanEck Vectors Oil Services ETF (OIH)

OIH tracks a market-cap-weighted index of 25 of the largest US-listed, publicly traded oil services companies.
OIH reported October 2022 as its best month, with monthly returns at 41.4% on RADiENT.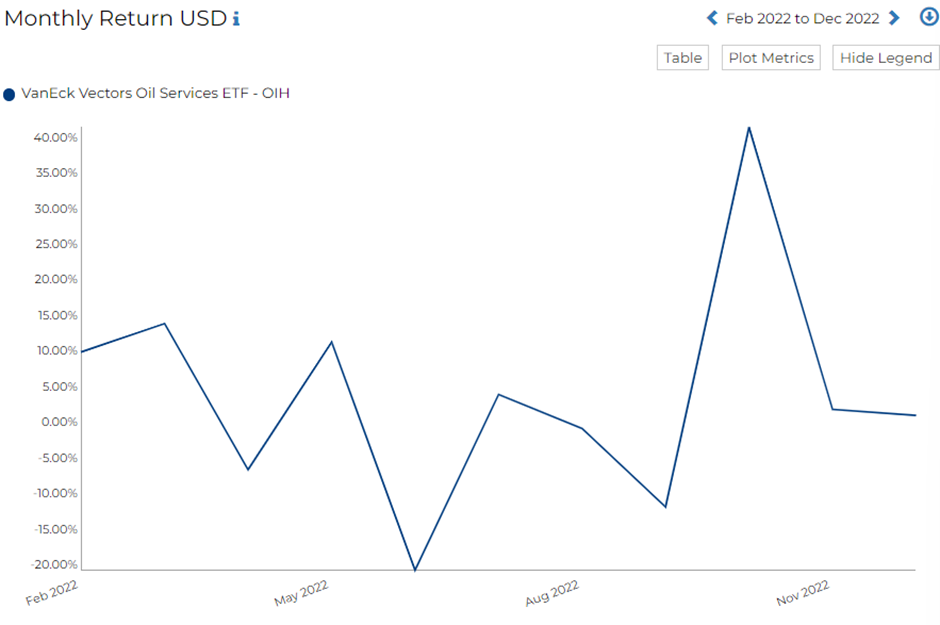 PowerShares Dynamic Oil & Gas Services (PXJ)

PXJ adopts a more comprehensive approach by carefully selecting companies based on a range of investment factors such as price and earnings momentum and valuation metrics. The fund comprises 30 top-performing energy firms in the US, chosen through a meticulous picking process and rebalanced every quarter to ensure it holds only the best oil and gas stocks.

PXJ achieved impressive returns in 2022 with a mix of well-known companies like Halliburton Co. (HAL) and lesser-known firms like TechnipFMC PLC (FTI) based in the UK.

October 2022 was reported as their best month with monthly returns of 35.23% on RADiENT, with an annual return of 61.55%
This fund's last reported 13F value was $1.07M.

Vanguard Energy ETF (VDE)

The Vanguard Energy Fund (VDE) is a well-known sector fund with a portfolio of 110 stocks, including large oil companies like Chevron and as well as minor entities in the exploration and infrastructure fields. It has accumulated up to $8 billion in assets.
VDE tracks a market-cap-weighted index of US energy companies.

The index includes those companies deemed investable by MSCI and covers 98% of the market. October 2022 was reported as their best month with monthly returns of 24% on RADiENT. The 13F filing by this fund discloses Exxon Mobil, Chevron, and ConocoPhilips are the top held securities by the fund. VDE is primarily an energy-focused fund that also has holdings from the materials and healthcare sectors.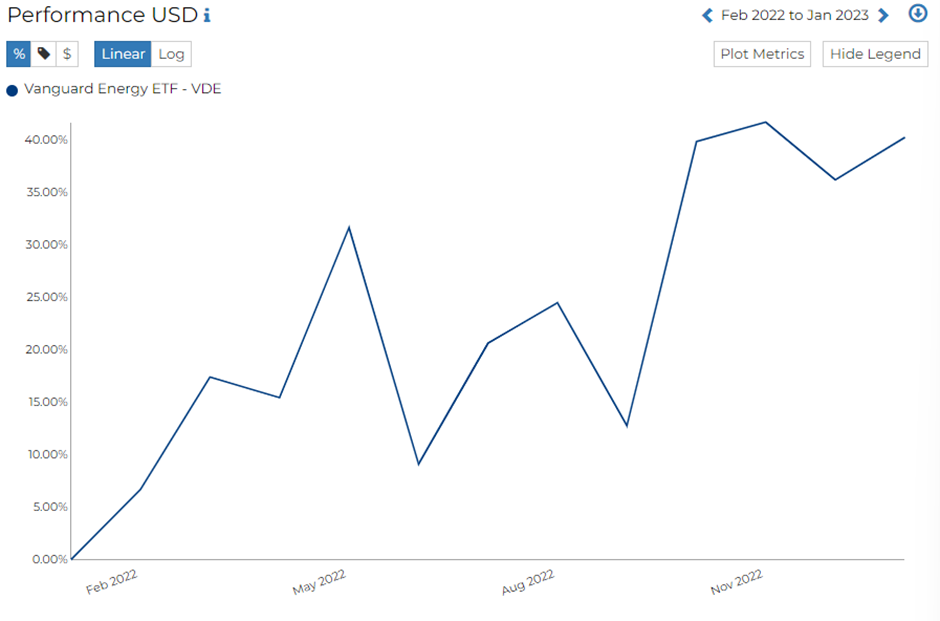 Users can access all ETF performance data on RADiENT!