April 2020 was the best stock market month in 11 years and a month of relief for investors worldwide, as stock markets rebounded from their steep declines in Feb and March. The Dow rose by 13% while the S&P 500 Index rose by 15%!
Sectors such as Pharma and Utilities which held the spotlight in the first half of April, were given contest by higher beta stocks such as those in Information Technology and Materials.
However, Energy stocks stole the show, posting median returns of 28% after falling over 40% in the last 3 months.
Sector-wise performance of stocks in the S&P 500 in the last one month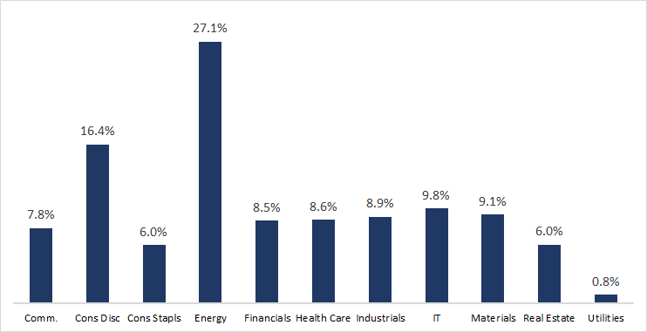 ---
Fund performance
In this section we bring out 3 funds, which delivered exceptional performances in the last 6 months and have AUM greater than $ 100,000,000.
Virtus Zevenbergen Innovative Growth Stock Fund
This fund invested primarily in growth stocks and is heavily overweight on technology stocks compared to other funds in large cap segment. It's largest holdings include Tesla, Shopify and Exact Sciences. This fund's investments are spread across 4 countries. This year it delivered returns of 14% while its peers delivered -6.15%.
Baillie Gifford Long Term Global Fund
This fund is classified as a global large cap growth fund and invests primarily in countries outside the United States. It's largest positions are in the technology and consumer services space and its top holdings feature Amazon, Tencent, Alibaba, Tesla and Illumina.
This year it delivered 8.19% against a category return of -9.77%
Morgan Stanley Multi Cap Growth Trust
CPODX Is classified as large growth fund which invests primarily in US equities, and a smaller portion in non-US equity. The fund is heavily overweight in the technology space, and its largest holdings are Intuitive Surgical Inc, Amazon, Illumina, Uber and Shopify.
This year it delivered 15.44% versus a category return of -5%.
YTD Performance of the 3 funds vs S&P 500 on RADiENT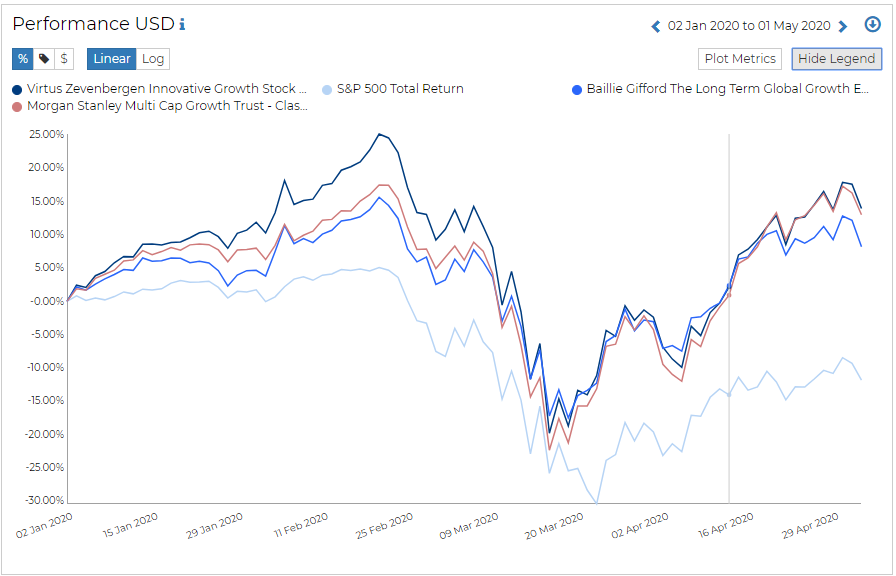 ---
Fund filings
13f filings season is underway and we now have data for almost 5000 filers on RADiENT which includes over 900 hedge fund filers. Prominent filers whose latest filings are now on RADiENT include Blackrock, Parnassus and Cantillon Capital.
13f filings show that managers have held on to securities such as Walt Disney and Visa and increased holdings in Microsoft and Amazon. Visit RADiENT to find out more now!