Hedge fund managers Stanley Druckenmiller and David Tepper loaded up on stocks benefitting from the AI boom during the 1st and 2nd quarters of 2023. Radient analyzes the Q2 2023 13F filings for these managers.
Duquesne Capital Management
Stanley Druckenmiller is a legendary investor and the founder of Duquesne Capital Management, a family office that reported $2.9B in 13F holdings as of the end of Q2 2023. Duquesne Family Office's portfolio is diversified across 11 sectors. Currently, their heaviest sector is Technology — making up 30.3% of the total portfolio value.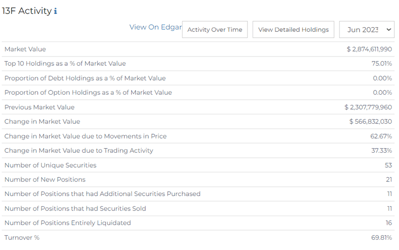 During the second quarter, Duquesne entirely liquidated 16 and added 21 new securities to its portfolio. The top 10 holdings account for 75% of the portfolio and the firm primarily focuses on increasing its stake in companies leveraging AI. Druckenmiller believes, unlike crypto, "AI is real." One of his favorite AI stocks is Nvidia. Duquesne's portfolio currently holds Nvidia stock worth $410M. Nvidia's stock is up 98% so far this year, making it one of the top performers in the S&P 500 Index.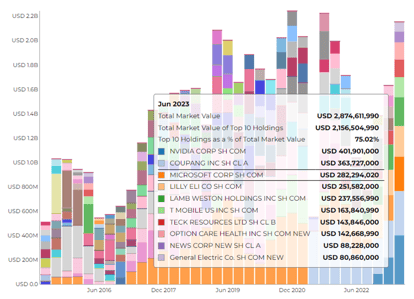 Duquesne Family Office's second top holding is of Coupang currently worth over $360M and making up to 12.6% of the portfolio value. Relative to the number of outstanding shares of Coupang, the Duquesne Family Office owns more than approximately 0.1% of the company. Coupang's efficient logistic network and use of AI and machine learning set it apart from its competitors.
Duquesne Family Office holds a large position in Microsoft Corp., which now makes up 9% of the firm's roughly $2.8B US equities portfolio. Microsoft has a $10B investment in OpenAI, whose ChatGPT tool has lit up the internet.
The firm's 4th largest security-Eli Lilly Co is also investing in AI, machine learning, and automation. Shenzhen-based Xtalpi, an AI-powered drug discoverer, announced in May that, it has partnered with Eli Lilly in a deal worth up to $250M to unearth potential medicines for an undisclosed disease
Druckenmiller's firm also holds positions in Iqvia Holdings Inc. ($44.6M), a healthcare technology company that uses transformative AI capabilities to help with its research and commercial efforts.
Appaloosa LP
This New Jersey-based hedge fund nearly tripled its stockholdings to $5.4 billion in Q2 2023 from Q1 2023. The firm's market value was majorly affected by the trading activity, which included entirely liquidating 9 securities and adding 19 new positions to its portfolio.
Appaloosa increased its holdings of a number of tech stocks, including several major AI and semiconductor plays. Tepper's Appaloosa revealed new positions in both Advanced Micro Devices Inc (2.3M shares worth $263M) and Apple (480K shares worth $93M) in the recent 13f filing while dumping a position in Tesla Inc. it acquired a quarter ago. Additionally, the hedge fund increased its stake in Nvidia Corp. by 580% to just over 1M shares and more than doubled its stake in Meta Platforms Inc. to 1.5M shares.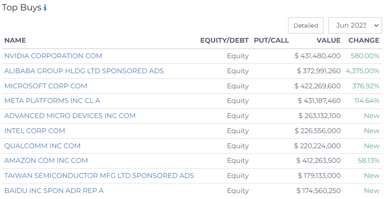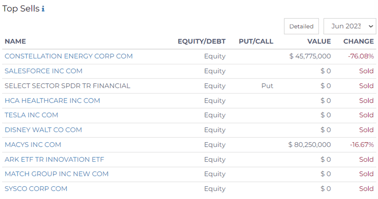 The third and fourth largest positions in Appaloosa's portfolio are Microsoft and Meta, both AI giants in the industry. Meta is all set to drop a code-generating AI bot. The firm is also big on investing in Chinese stocks like- Alibaba (Tepper increased his position in the stock by 4,400%), Baidu and JD.com.
You can view all the recent 13F filings via Radient, here.